Back to Top
UCI Law Announces $65 Million Campaign and Introduces 'Let's Go Change the World' Video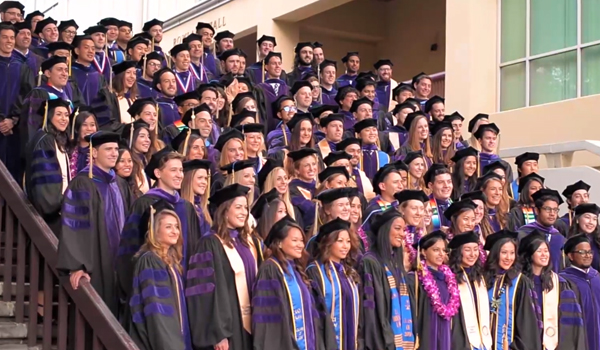 IRVINE, Calif. (Nov. 4, 2019) — University of California, Irvine School of Law (UCI Law) launched its five year, $65 million "Brilliant Future" fundraising campaign with a video, titled "Let's Go Change the World." As showcased in the short film, the campaign slogan is rooted in UCI Law's founding values and transformative core mission to lead positive change in our local, national, and global communities.
"We've achieved what no other law school in the country has ever achieved," said L. Song Richardson, UCI Law Dean and Chancellor's Professor of Law. "Law is at the center of all the pressing questions of our time, including areas such as artificial intelligence and emerging technologies, healthcare, and the environment. The UCI Law community is driven to improve our communities by grappling with these important issues as scholars, as practitioners, and as teachers preparing the next generation of leaders."
UCI Law opened in 2009 with a bold pledge to be a top law school within a decade. Having achieved that, it is now focused on its second decade and is setting its sights even higher. UCI Law's goal is to become a top 10 law school, and to accomplish that UCI Law's way: with a commitment to public service, groundbreaking research, and preparing students to confront the challenges of a changing legal profession.
To reach this ambitious goal, UCI Law is prioritizing investments in three areas:
Scholarship & Leadership: Endowed faculty chairs and centers of excellence to attract the world's leading scholars and teachers to shape policy and improve the law.
Serving Student Needs: Need-based and merit-based scholarships and public interest fellowships to provide tomorrow's lawyers and leaders unprecedented opportunities.
Practical Training & Experiential Learning: Legal clinics to provide experiential learning opportunities and impact the community.
UCI Law's Story
Launched with a groundbreaking approach that was practical, experiential, public service oriented and global in perspective, UCI Law revolutionized legal education when it opened its doors in 2009. Its vision was to impact the world through training students, generating expert knowledge on important topics, and providing free legal services. UCI Law's success is unprecedented. In just 10 years, it is already ranked:
No. 23 among U.S. law schools
No. 7 in clinical training
No. 8 in tax
No. 14 in legal writing, and
No. 19 in intellectual property. 
Known for training the "next generation of first-generation lawyers," UCI Law graduates are among the most sought-after legal professionals in the nation. UCI Law is already ranked No. 8 for student placement in prestigious federal court clerkships, No. 4 for practical training of students, No. 3 in community service, and among the top in the nation for student diversity.
UCI Law is poised to tackle some of the most significant challenges facing the legal profession and society as artificial intelligence and other emerging technologies rapidly change the world. With an award-winning, interdisciplinary, and diverse faculty the school is up to the task. Ranked 12th in the nation for the impact of its scholarship, they will grapple with important issues, including the profound moral, ethical and legal questions raised by emerging technologies, as well as family violence, the environment, health policy, tax, implicit bias, criminal justice, immigration, and international human rights, among others.
The "Let's Go Change the World" video features the following UCI Law faculty, students and alumni, in order of appearance:
L. Song Richardson, Dean and Chancellor's Professor of Law
James Lamb, UCI Law 3L
Akhil Sheth, UCI Law '13; Associate, Crowell & Moring LLP
Jessica Santiago, UCI Law 1L
Kaaryn Gustafson, Professor of Law; Director, Center on Law, Equality and Race (CLEaR)
Rose Lyn, UCI Law 3L
Sai Upadhyayula, UCI Law 3L
Alejandro Camacho, Professor of Law; Director, Center for Land, Environment, and Natural Resources (CLEANR)
Swethaa Ballakrishnen, Assistant Professor of Law 
Eldrin Masangkay, UCI Law 3L
Christina Zabat-Fran, UCI Law '12; General Counsel, St. John
Jonathan Glater, Professor of Law
Stephen Lee, Professor of Law
Michele Goodwin, Chancellor's Professor of Law; Director, Center for Biotechnology and Global Health Policy
Katie Tinto, Clinical Professor of Law; Director, Criminal Justice Clinic
Jane Stoever, Clinical Professor of Law; Director, Domestic Violence Clinic; Director, Initiative to End Family Violence (IEFV)
Parth Jani, UCI Law 3L
Brooke Weitzman, UCI Law '14; Directing Attorney and Co-Founder, Elder Law & Disability Rights Center
Robyn Lin, UCI Law 2L
To learn more about UCI Law's Brilliant Future campaign, please visit the campaign website. Please follow us on Twitter and Instagram @ucilaw and SnapChat: ucilaw.
Media Contacts:
Mojgan Sherkat
949-824-7937
msherkat@law.uci.edu