Back to Top
Ninth Circuit Appellate Litigation Clinic
The Ninth Circuit Appellate Litigation Clinic provides students with experience in legal research and analysis and provides them with an opportunity to build upon oral advocacy skills.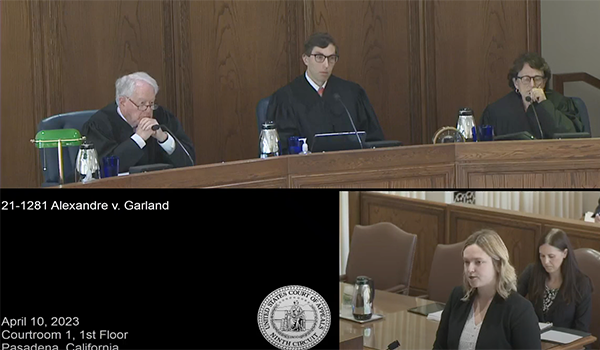 This two-semester clinic for third-year law students provides an effective transition to practice. Students take on real appeals on a broad range of significant issues from the Ninth Circuit Court of Appeals, litigating through its conclusion.
Clinic students review the lower court record, research and develop a theory of the case, write opening and reply briefs, and argue before the Ninth Circuit. Students have opportunities for client contact whenever possible and routinely participate in advising clients on the progress of the appeal.
In almost every case, the clinic offers its clients a final chance to seek and obtain relief from any court in the United States.
---
To cap off my final year of legal training I, along with fellow classmate Stefanie Wilson, had the great honor of arguing a real case before the Ninth Circuit Court of Appeals. As students in the Appellate Litigation Clinic, we represented a pro se litigant and wrote the opening and reply briefs before arguing before the judges. We got to learn from truly the best in the business.
— Lisa Faye Petak '14, Associate, Weitz & Luxenberg, New York City
Recent Work
The Ninth Circuit Appellate Litigation Clinic litigated several immigration and prisoner 1983 appeals over the course of 2021 and 2022. As of fall 2022, it has an en banc request pending in a case where a client was shot by prison guards. The ALC has also filed an opening brief in an immigration appeal raising question about continued Chevron deference to the agency's interpretations of immigration law. 
In 2021, students argued appeals in several Ninth Circuit cases, ranging from an immigration appeal on behalf of a sex trafficking survivor seeking to avoid removal back to Thailand under the Convention Against Torture (CAT) to cases raising Fourth Amendment issues related to the scope of search authority that police possess when reviewing modern cell phones and digital device data. The ALC had a particularly notable win in an appeal on behalf of Cuban national who was beaten and detained by Cuban police on account of his political opinion. The ALC obtained reversal of the agency's adverse credibility findings and denial of a continuance allowing petitioner to obtain additional supporting evidence. The Ninth Circuit remanded the case for a new hearing on petitioner's asylum, withholding of removal and CAT claims.
Highlighted Project: Securing Protection for Victims of Childhood Abuse
One of the Ninth Circuit Appellate Litigation Clinic's most significant victories was securing asylum for a persecuted citizen of Mexico who suffered childhood abuse because of his sexual orientation.
Carlos Bringas-Rodriguez sought asylum in the United States, asserting that Mexican officials were unable or unwilling to protect him from repeated sexual abuse. The clinic represented Bringas-Rodriguez at the en banc court of the Ninth Circuit Court of Appeals.
A prior Ninth Circuit ruling held that a victim of childhood abuse based on sexual orientation could not establish persecution because he failed to prove that Mexican officials were unable or unwilling to protect gay children, rather than gay people generally, from sexual abuse at the hands of private actors.
But in the Bringas-Rodriguez case, the en banc court held that requiring proof of unwillingness or inability to protect gay children specifically, as opposed to gay people generally, was inappropriate because it imposed upon child victims of private persecution a heightened evidentiary burden and de facto reporting requirement which is virtually impossible to satisfy because of the victims' status.
This decision clarifies that gay children who suffer abuse on account of their sexual orientation can establish persecution by demonstrating that the government is unable or unwilling to control persecution of gay people generally, and that victims of childhood persecution also need not prove that the government was unable or unwilling to control child abuse. It is also significant to the extent it clarifies that child victims of private persecution are not required to report their abuse to authorities.
Bringas-Rodriguez represents a significant victory for children who are persecuted because of their sexual orientation, and enabled our client to seek asylum and other relief. 
In The News