Back to Top
Environmental Law Clinic
The Environmental Law Clinic provides students with the opportunity to work on important and challenging matters involving the protection and enhancement of the environment and human health. Clinic students take an early and active role representing clients in litigation and policy matters. Students advocate on behalf of clients in courts and before administrative tribunals, while also providing advice and counsel to clients regarding legislative, policy, and strategic matters.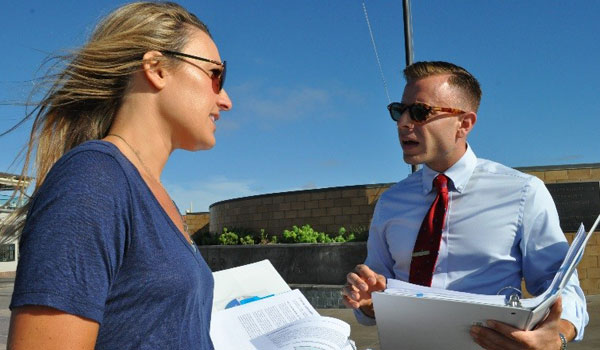 The Clinic's docket is diverse, spanning a wide range of environmental and natural resources law, covering local, regional and national issues. As a result, the Clinic provides a rigorous and intellectually challenging educational experience with broad application for students beyond environmental law. Students develop their problem-solving and advocacy skills and may screen new matters; meet with and interview clients, community leaders, witnesses and agency personnel; investigate and develop facts; hone writing and oral advocacy skills; advise and counsel clients; negotiate, mediate or litigate matters; and collaborate with lawyers, policymakers and others. The Clinic also strives to empower its clients and inform the larger community about environmental issues and strategies.
In addition, the Clinic works closely with UCI Law's Center for Land, Environment, and Natural Resources (CLEANR), the UCI School of Social Ecology and the UCI Program in Public Health.
In its first six years, clinic students have worked on a diverse range of matters, including:
Initiating actions to protect water quality and enforce the Clean Water Act
Assisting coastal communities to plan for climate change adaptation
Advising a coastal community in its fight against on-shore oil drilling
Protecting important desert lands against development and exploitation
Encouraging and requiring compliance with the California Environmental Policy Act and the National Environmental Policy Act
---
"The Environmental Law Clinic was fantastic. I got to write a reply brief and then argue a motion for a writ of mandate in court, so I was in court for several weeks in a row watching this bench trial happen, and then I got to argue in court. It was the first time that I got to be a real lawyer—not for moot court, not for class, but for real—and I felt 100% prepared to do it, which was a really awesome feeling." — AK Bennett '14, Associate, Norton Rose Fulbright, Los Angeles
---
Highlighted Project: Ensuring Green Means Green
During fall 2017, clinic students will assist a national non-governmental organization in its fight against a proposed renewable energy project on the edge of pristine public lands, including a newly-designated national monument near the California-Nevada border. While most people may assume all renewable energy projects are "green," the clinic will help ensure this project complies with existing environmental laws and does not threaten other protected areas, species, and natural resources.
In another matter, students are assisting two grassroots organizations in an all too common fight against the proposed expansion of a hazardous waste facility in a low-income, predominately Spanish-speaking, Latino community that is already disproportionately impacted by pollution.
In both cases, the clinic will help to serve clients' efforts to protect and enhance public health and the environment for today, and for generations who do not yet have a voice.
Learn more about the Environmental Law Clinic (PDF) >
In the News