Jane K. Stoever
Clinical Professor of Law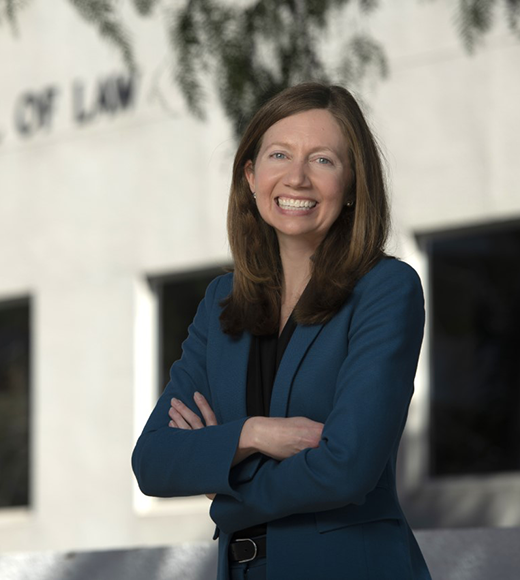 Expertise:
Domestic violence law, family law, clinical legal theory, feminist legal theory
Background:
Professor Stoever has extensive experience teaching domestic violence clinics and engaging in scholarship in the areas of domestic violence law, family law, feminist legal theory, and clinical legal theory.
In Professor Stoever's clinical teaching, she supervises law students representing clients in family law, immigration, and other legal and non-legal interventions into domestic violence. Professor Stoever began teaching as a Georgetown Clinical Teaching Fellow and Women's Law and Public Policy Fellow, where she taught in Georgetown University Law Center's Domestic Violence Clinic and was trained in clinical pedagogy. Prior to joining the faculty at UCI Law, Professor Stoever was a faculty member at American University Washington College of Law and Seattle University School of Law, where she taught Family Law and Domestic Violence Law and directed the Domestic Violence Clinic. Professor Stoever previously served as a judicial clerk, worked at legal aid offices and at a shelter for teenage girls, and was a live-in staff member at a shelter for homeless families. She graduated from Harvard Law School and received her LL.M. from Georgetown University Law Center. At Harvard Law School, she was a student attorney at the Harvard Legal Aid Bureau.
Professor Stoever's scholarly work focuses on the multiple oppressions domestic violence survivors face and explores ways that the law can better respond to complex experiences of intimate partner abuse. In addressing the interdisciplinary problem of domestic violence, her scholarship frequently brings together the worlds of law, public health, psychology, and survivors' lived experiences. 
Jane K. Stoever, Title IX, Esports, and #EToo,

89 George Washington Law Review 857

(2021).
The Politicization of Safety (Jane K. Stoever ed., NYU Press 2019)
Jane K. Stoever, Access to Safety and Justice: Service of Process in Domestic Violence Cases, 94 WASH. L. REV. 333 (2019).
Jane K. Stoever, Parental Abduction and the State Intervention Paradox, 92

Wash. L. Rev.

861 (2017)
Jane K. Stoever, Mirandizing Family Justice, 39

Harv. J.L. & Gender

189 (2016)
Jane K. Stoever, Teach Your Children Well: Preventing Domestic Violence, 13

Seattle J. for Soc. Just

. 515 (2014)
Jane K. Stoever, Enjoining Abuse: The Case for Indefinite Domestic Violence Protection Orders, 67

Vand. L. Rev.

(2014)
Jane K. Stoever, Transforming Domestic Violence Representation, 101

Ky.

L.J. 483 (2013)
Jane K. Stoever, Freedom from Violence: Using the Stages of Change Model to Realize the Promise of Civil Protection Orders, 72

Ohio St

. L.J. 303 (2011)
Jane K, Stoever, Stories Absent from the Courtroom: Responding to Domestic Violence in the Context of HIV and AIDS, 87

N.C. L. Rev.

1157 (2009)
Jane K. Stoever, Domestic Violence, in

The Child Abuse and Neglect Practice Manual

(Council for Court Excellence ed., 2007)
Jane K. Stoever, Litigating Domestic Violence Cases, in

The District of Columbia Practice Manual

(Laurie S. Kohn & Elizabeth Liu eds., 2006 & 2007)
During the past four years, Professor Stoever has organized and hosted an annual cross-disciplinary domestic violence symposium, with leading academics and audiences of more than 400 participants. Other events include:
October 24, 2023
Presenter, "Removing the Bias of Criminal Convictions from Family Law," Yale Law School

September 29, 2022
Presenter, "Addressing Intimate Partner Violence (IPV) and Firearms: Current Trends, Risks, Policies and Promising Public Health Tools and Practices," California Department of Public Health, Webinar
September 16, 2022
Panelist, "Implications of the Dobbs Decision," OC Bar Association and OC Women's Law Association, Avenue of the Arts Hotel in Costa Mesa
July 27, 2022:
Panelist, "The POWER Act: Promoting Pro Bono Legal Services to Empower Survivors of Domestic Violence"

U.S. District Court for the Central District of California

, Online
April 8, 2021:
Panelist, Online Gendered Hostility & Violence, Georgetown Journal of Gender and the Law symposium "The Evolution of Technology & Gender-Related Offenses," Georgetown Law, Online
Oct. 6, 2020: 
Speaker, Responding to Intimate Partner Violence from a Law Enforcement, Legal and Medical Prospective, CHOC Childrens, Webinar
July 21, 2020:
Facilitator, "Anti-Carceral Responses to Gender-Based Violence," 2020 AALS/CLEA Virtual Clinical Conference, Online
Jan. 24, 2020:
Panelist, Current State of Gender Equality, 1920-2020: The Effects of Women's Suffrage 100 Years After Ratification of the 19th Amendment, Chapman University Fowler School of Law, Orange, CA
May 31, 2019:
Speaker, Gaming, Virtual Worlds, and Future Frontiers in Gender-based Violence Prevention, Feminist Legal Issues in Cyberspace Panel, Law and Society Association Annual Meeting, Washington, DC
May 31, 2019:
Roundtable Session, Self-Care, Healing, and Mind/Body After the Kavanaugh Hearings and Confirmation, Law and Society Association Annual Meeting, Washington, DC
May 5, 2019:
Speaker, Polarization in the Legal Academy: A Conversation on Looking Inward to Break New Ground, Association of American Law Schools, 2019 Conference on Clinical Legal Education, San Francisco, CA
April 18, 2019:
Book Talk on The Politicization of Safety, Program on Women's Health and Safety, National Women's Political Caucus, Orange County, Tustin, CA
April 17, 2019:
Keynote Speaker, UCI Take Back the Night, UCI Flagpoles, Irvine, CA
Jan. 5, 2019:


Speaker, AALS Discussion Group, 2019 AALS Annual Meeting, New Orleans, LA

Sept. 7, 2018: 


Keynote Speaker, Access to Safety and Justice: Celebrating Successes While Seeking to Improve the Efficacy of Domestic Violence Protection Orders, 

2018 Domestic Violence Symposium

, Seattle, WA

April 23, 2018:
Speaker, "Intersectional Fears: Immigration, Intimate Partner Violence, and California's Mandatory Reporting Law," UC Irvine Institute for Clinical and Translational Science, Community Health Research Exchange, Irvine, CA
April 18, 2018:
Keynote Speaker, Take Back the Night, UC Irvine, Irvine, CA
April 12, 2018:
Speaker, UCI Law Domestic Violence Clinic led Youth Action Forum on #MeToo, Beckman High School, Irvine, CA
April 10, 2018:
Speaker, "The Gender Equality Imperative," American Association of University Women's Equal Pay Day Program, Saddleback College, Mission Viejo, CA
March 24, 2018:
Speaker, "Firearms and Family Violence," March for Our Lives, Santa Ana, CA
March 11, 2018:
Speaker, "The Importance of Reinstating the OC Commission on the Status of Women," UC Irvine School of Medicine, Irvine, CA.
Feb. 28, 2018:
Speaker, Teen Dating Violence Awareness Month and the #MeToo Movement, Youth Action Team Forum (private event), University High School, Irvine, CA
Feb. 25, 2018:
Panelist, Partners in Crime: Gun Violence and Domestic Violence, Moms Demand Action Meeting, The Duck Club, Irvine, CA
Feb. 16, 2018:
Speaker, Domestic Violence Awareness, UCI Town & Gown Winter Scholarship Luncheon, Costa Mesa Country Club, Costa Mesa, CA
Jan. 12, 2018:
Guest Lecture, Intimate Partner Violence and Medical Mandatory Reporting, UC Irvine School of Medicine, Irvine, CA.
Jan. 3, 2018: 
Panelist, Access to Justice in the Age of Technology, Television, and Trump, Association of American Law Schools, Annual Meeting. San Diego, CA.
July 19, 2017:
Moderator,  Panel on "Innovative partnership and funding opportunities," Expanding Perspectives on Gender Equality conference, UCI Newkirk Alumni Center
April 6–7, 2017:
Organizer and panelist, The Politicization of Safety, Initiative to End Family Violence Annual Conference, UC Irvine