Back to Top
Immigrant Rights Clinic
The UCI Immigrant Rights Clinic (IRC) launched in 2011 as part of UCI Law's visionary experiential learning program. Clinic students, working under close faculty supervision, provide direct representation to immigrants on matters ranging from detention and deportation defense to workplace exploitation and protection of civil and constitutional rights of immigrants. The clinic also provides legal support to grassroots organizations working on critical issues affecting low-income immigrants.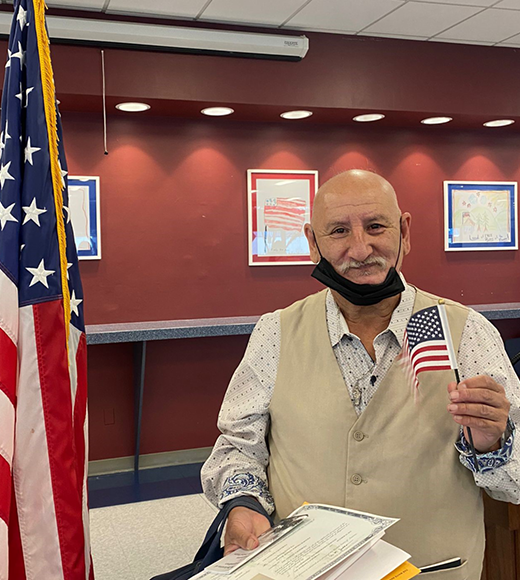 The IRC strives for and models high-quality, holistic, and transformative lawyering. It acts in accordance with the foundational insight that the community is best served when lawyers help empower marginalized individuals and groups to advocate for themselves.
Clinic students litigate on behalf of clients in federal and state courts and before administrative agencies. They develop traditional lawyering skills, such as client interviewing and counseling, fact investigation, legal drafting and trial presentation. In addition, modern legal practice demands problem-solving methods beyond those skills. Immigrant communities targeted by aggressive law enforcement initiatives have been sites of innovative social and political organizing. The clinic supports that work by partnering with organizations to conduct community education and advance policy campaigns. Through rigorous, structured reflection, students distill lessons about legal practice from their fieldwork.
In past years, complex cases undertaken by the clinic have included the representation of youth referred to ICE by juvenile probation officials, community members alleged to have gang ties, deported veterans seeking to return to the United States, and LGBT immigrants seeking asylum and other forms of protection. Other representative projects have included:
Litigating a federal suit in Maricopa County, Arizona, with Puente Arizona to challenge the criminalization of immigrant workers;

Working with a coalition in Santa Ana, California to pass a bold and far-reaching sanctuary ordinance;

Representation of immigrant detainees in habeas actions seeking their release during the height of COVID-19;

Securing damages for immigrants unlawfully detained by local law enforcement officials in violation of state law; and

Partnering with national groups on Freedom of Information Act (FOIA) litigation and advocacy.
In the Immigrant Rights Clinic, suddenly all the law I had been learning had a new meaning and a new purpose: helping our client. It completely changed the way I interpreted the rules and principles I was learning; instead of asking only, 'What do the rules mean?' I had to ask myself, 'What do they mean for our client?' The law was no longer an intellectual exercise but a matter of life and death. My clinic client has remained with me as a constant reminder of the law's potential for justice and injustice for each individual, and is a constant reminder of why I became a lawyer.
- Alisa Hartz '12, Attorney, Public Counsel, Los Angeles

---
Highlighted Project: Detainee Assistance and Bond Representation Project
In recent decades, the number of immigrants detained by federal authorities has grown at alarming rates. Although this detention is civil in nature, it is experienced by many immigrants as punitive, and conditions can be as harsh as those in the criminal system. Isolated from their families and communities, detained immigrants face profound pressure to forfeit claims to remain in the United States.
Since 2014, clinic students have represented and assisted detained immigrants in their efforts to obtain freedom from detention. For many years, students met with clients at the Adelanto Detention Center in San Bernardino County or at one of several facilities in Orange County. We recently started a new collaboration with the California Coalition for Immigrant Justice (CCIJ) to assist clients at the Golden State Annex in Kern County.
Students investigate facts, formulate a theory of the case, prepare evidence and serve as primary representatives at detainees' bond hearings. The clinic's bond clients have included some of the most vulnerable in the immigration system—those who survived abuse, fled persecution, struggled with mental illness, were recovering from drug or alcohol addiction, or faced stigma and discrimination as a result of their criminal records. Bond is often a turning point in their cases. Clients have gone on to win important relief ranging from the acquisition or restoration of status to termination of their proceedings.
In total, students have assisted dozens of detainees, many of whom were subject to prolonged detention. The bond project is highly regarded and has become a model for other law clinics and pro bono programs.
We need lawyers who will strengthen the capacity of immigrant communities to solve the problems that they face. I appreciate that the Immigrant Rights Clinic has been an important partner in our work, both in California and in others parts of the country. I also appreciate that the Clinic trains students to be client-centered, adaptable, resourceful and strategic.

— Pablo Alvarado, Executive Director, National Day Laborer Organizing Network
Core Competencies
All students handle at least one litigation case and one non-litigation advocacy project. Students work in teams of two or three on all clinic projects. With the permission of the presiding judicial or administrative officer, students serve as the primary legal representative for their clients in all hearings before state and federal courts and agencies.
Foundational Lawyering Skills: Students interview clients, undertake fact investigations, disentangle procedural rules, draft complaints and legal briefs, conduct direct and cross-examinations, and negotiate with opposing parties. Through both intense individual immersion and collaborative learning across clinic teams, students are assured of exposure to a range of skills and knowledge bases. 
Participatory Litigation: IRC contextualizes traditional legal skills in a participatory framework and students work with clients as collaboratively as possible.
Policy Advocacy: Modern legal practice requires basic policy advocacy skills, such as knowledge of legislative drafting, framing techniques, grassroots lobbying methodologies, and media advocacy, to complement litigation expertise.
Know Your Rights and Community Education: Students engage in know-your-rights and community education programs, especially those that can be sustained by our community-based collaborators.
Lawyers and Client Mobilization: Students work with community-based organizers because lawyering alone does not advance justice. Through these collaborations, students explore the strategic and ethical challenges posed by a mode of practice that aims to mobilize clients, in addition to asserting legal rights and defenses on their behalf.
Strategic Judgment: As lead counsel on multi-modal advocacy projects, students participate and contribute to the development of social and economic justice campaigns on behalf of individuals and organizations.
Recent Work
In 2022,  IRC advocated for a number of clients who had won post-conviction relief to have their deportation cases closed, thus paving the way for clients to renew their green cards or apply for citizenship. IRC students also collaborated with a social work team (including a social work student at California State University-Fullerton) to assist clients with immediate non-legal needs, such as getting access to housing, identity documents, and mental health care.

IRC students also continue to assist with a class action case challenging the practices of Immigration and Customs Enforcement (ICE) officers when they conduct warrantless arrests at community members' homes. Plaintiffs in the case hope to stop ICE officers' tactic of posing as police or probation to trick community members into complying with their demands. In addition, IRC students are working with the Orange County Rapid Response Network (OCRRN) to conduct trainings on various topics to empower local organizers and immigrant families. Last year, a student team gave a training on the interaction between the criminal and immigration systems.
---
In the News
UCI Law Immigrant Rights Clinic Secures Release of Individuals in Immigration Detention Facing COVID-19 Risk  – UCI Law
UCI Law Immigrant Rights Clinic represents DACA recipient turned over to immigration officials by Laguna Beach – Los Angeles Times
UCI Law Immigrant Rights Clinic client receives $19K settlement with Laguna Beach over immigration hold – ABC7
Students, faculty and alumni of UCI Law's Immigrant Rights Clinic discuss their work in Tijuana to help asylum-seekers – PRI
UCI Law Immigrant Rights Clinic issues report outlining O.C. Sheriff, police agencies work with ICE – Orange County Register
UCI Law Immigrant Rights Clinic assists deported veteran return to U.S. – Orange County Register
UCI Law Immigrant Rights Clinic, Prof. Lai and students help U.S. Army veteran return home to California after deportation – Los Angeles Times
UCI Law Immigrant Rights Clinic victorious in fighting OC District Attorney's proposed gang injunctions – Urban Peace Institute
Immigrant Rights Clinic's amicus brief featured Oct. 2017 – Daily Journal
Immigrant Rights Clinic files amicus brief to 9th Cir. urging judges to considerd ability to pay bond, flight risk – Law 360
Prof. Lai, students in Immigrant Rights Clinic provide comment at Santa Ana City Council meeting on representing undocumented immigrants – Voice of OC
Prof. Lai quoted: Ariz. ruling reaffirms notion that officials may not appropriate federal-employment verification system to target undocumented workers – USA Today
Immigrant Workers Take Sheriff Joe Arpaio and County's Top Prosecutor To Court (PDF) – UCI Law, NDLON, ACLU joint press advisory
Immigrant Rights Clinic worked on AB2298, bill signed by Gov. Brown to overhaul CA gang database – UCI Law News
UCI Law Clinic Issues Report on Unlawful Labor and Employment Practices by The Westin Long Beach Hotel – Press Release
Prof. Ashar quoted re: abusive working conditions at Station Casinos in Las Vegas – Public News Service
UCI Law students' work with Legal Aid Society-Employment Law Center worker's clinic highlighted

 

– Daily Journal
Prof. Lai is quoted re: 9th circuit ruling on bond hearings for detained immigrants – Los Angeles Times
Immigrant Rights Clinic report, Profs. Ashar and Lai quoted in part 2 of series on undocumented teens – Voice of OC
Prof. Ashar quoted re: problem of "employee" vs. "independent contractor" misclassification of workers – Al Jazeera America
Immigrant Rights Clinic plays key role in Arpaio case, Prof. Lai quoted – The Daily Pilot/ Los Angeles Times
Immigrant Rights Clinic's Amelia Alvarez, Fawn Bekam, and Prof. Ashar quoted re: impact of gang injunctions on undocumented immigrants – Al Jazeera America
Immigrant Rights Clinic on legal team for workers seeking to stop Arpaio workplace raids – AZ Central
Alumna Leah Gasser-Ordaz ('14) quoted in news coverage of lawsuit against AZ Sheriff Arpaio – BuzzFeed
Immigrant Rights Clinic report helps end ICE holds on juveniles – Orange County Register
Immigrant Rights Clinic partnership with RAIZ group noted – Orange County Register
IRC's Prof. Lai, Kelsey Galanter ('15) and James Buatti ('14) score win in teen's residency case – San Francisco Chronicle
Immigrant Rights Clinic's Jessica Karp comments on federal immigration policy – The Washington Post
Coverage of Immigrant Rights Clinic's report on juvenile deportation – Los Angeles Times
Immigrant Rights Clinic report: O.C. leads state in child deportations (PDF) – Orange County Register
Immigrant Rights Clinic: Probation officials referring minors to federal authorities – AP/SF Chronicle
UCI's Immigrant Rights Clinic sues over deportation program – Inter Press Service