Back to Top
UCI Law Welcomes New Students and Faculty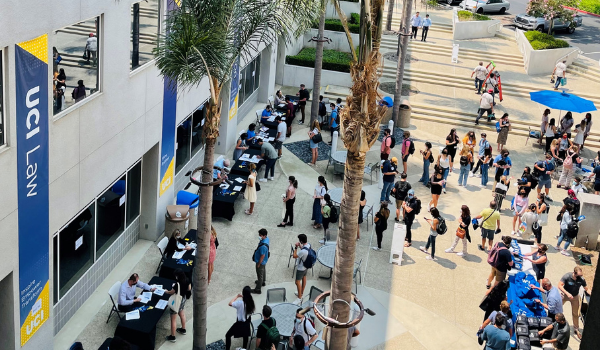 The University of California, Irvine School of Law (UCI Law) is thrilled to welcome the new J.D., LL.M. and Graduate Tax Program classes.  As of the first day of instruction, the incoming J.D. class consists of 170 students – 56 percent of the class of 2024 identify as students of color, 52 percent are female, 28 percent identify as LGBTQIA, 25 percent are the first in their families to graduate from college, and 3 percent are veterans. In total, there are 445 J.D. students enrolled at UCI Law this fall.
The UCI Law LL.M. program welcomes 42 students (34 fall enrollees and eight returning spring-start enrollees), which is tied for the largest number of LL.M. students enrolled in the program's history. The Graduate Tax Program welcomes 11 students, with six students having earned their J.D. from UCI Law.
 "UCI Law is uniquely positioned to prepare students to become the kind of lawyers the world needs right now: passionate, talented and socially conscious. We are delighted to welcome all of our students and faculty back to campus," said Bryant Garth, Interim Dean and Distinguished Professor of Law Emeritus.
UCI Law also welcomes three new full-time faculty members this year, as well as two new and two continuing visiting faculty members:
About the University of California, Irvine School of Law
The University of California, Irvine School of Law is a visionary law school that provides an innovative and comprehensive curriculum, prioritizes public service, and demonstrates a commitment to diversity within the legal profession. UCI Law students have completed more than 123,000 hours of pro bono work since 2009. Forty-seven percent of UCI Law's J.D. graduates are people of color. At UCI Law, we are driven to improve our local, national, and global communities by grappling with important issues as scholars, as practitioners, and as teachers who are preparing the next generation of leaders. The collaborative and interdisciplinary community at UCI Law includes extraordinary students, world-renowned faculty, dedicated staff, engaged alumni, and enthusiastic supporters. More information on UCI Law is available here. Please follow us on Twitter @UCILaw and Facebook @UCIrvineLaw.