Jamelia Morgan
Assistant Professor of Law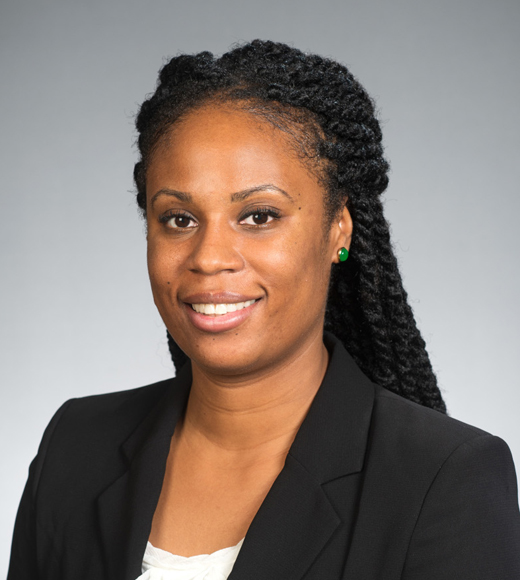 Expertise:
Race, Gender, Disability, and Criminal Law and Procedure
Background:
Professor Jamelia Morgan is an award-winning and acclaimed scholar and teacher focusing on issues at the intersections of race, gender, disability, and criminal law and punishment. Her scholarship and teaching examine the development of disability as a legal category in American law, disability and policing, overcriminalization and the regulation of physical and social disorder, and the constitutional dimensions of the criminalization of status.
Prof. Morgan joins UCI Law from the University of Connecticut School of Law, where she was Associate Professor of Law. Prof. Morgan has taught at Brooklyn Law School, NYU School of Law and Yale Law School. Prior to Prof. Morgan's academic career, she was a civil rights litigator at the Abolitionist Law Center and worked to end the use of solitary confinement in Pennsylvania state prisons. Prof. Morgan was also an Arthur Liman Fellow with the ACLU National Prison Project, where she focused on the impact of prisons on individuals with physical disabilities. Prior to her fellowship, she served as a law clerk to the Honorable Richard W. Roberts of the United States District Court for the District of Columbia.
Prof. Morgan received a B.A. in Political Science and a Master of Arts in Sociology from Stanford University, and her J.D. from Yale Law School.
Prior to law school, she served as associate director of the African American Policy Forum, a social justice think tank that works to bridge the gap between scholarly research and public discourse related to affirmative action, structural racism, and gender inequality.
Prof. Morgan has also served as counsel, vice president and board member of the Abolitionist Law Center, board member for the Connecticut Fair Housing Center, and as a board member of Mary's Daughter, LLC, a non-profit organization dedicated to meeting the needs of formerly incarcerated women of color. 
Jamelia Morgan, Disability's Fourth Amendment,

122 Colum. L. Rev.

(forthcoming 2022)
Jamelia Morgan, Policing Under Disability Law,

73 Stan. L. Rev.

(forthcoming 2021)

Selected for Michigan Law School's Junior Scholars Conference (2020) 

Jamelia Morgan, Youth Prisons and Abolition,

N.Y.U. Rev. of L. & Social Change

(with Dr. Subini Annamma)
Jamelia Morgan, Policing Marginality in Public Space,

81 Ohio St L. J.

1045 (2020) (symposium essay)
Jamelia Morgan, Rethinking Disorderly Conduct,

109 Calif. L. Rev.

(forthcoming 2021)

Selected for Stanford/Harvard/Yale Junior Faculty Forum (2020)
Winner, AALS Criminal Justice Section, Junior Scholars Paper Competition (2020)
Selected for the National Association of Criminal Defense Lawyers (NACDL) Getting Scholarship Into the Courtroom Project as a "Must Read" article

Jamelia Morgan, The Paradox of Inclusion: Applying Olmstead's Integration Mandate in Prisons,

27 Geo. J. on Poverty L. & Pol'y. 305

(2020) (symposium essay)

Excerpted in SAM BAGENSTOS, DISABILITY RIGHTS LAW: CASES AND MATERIALS (3d. 2021
Feb. 19, 2022:
Panelist, Panel Three: The Present, The Disability Frame: Opportunities, Costs, and Constraints in the Broad Struggle for Inclusion, University of Pennsylvania Law Review Symposium, University of Pennsylvania, Online
Feb. 4, 2022:
Featured Speaker, Ending Mass Incarceration: Philosophy, Practice, and Policy, Oklahoma Law Review Symposium, Online
Jan. 28, 2022:
Moderator, Law and Legal Institutions: Impediments to Change, Toward an Abolitionist Future, UCLA Law Review Symposium, Online
Jan. 6, 2022:
Panelist, The Carceral Logics of Care: Policing Hospitals, Policing Access to Care, 2022 AALS Annual Meeting, Online
March 25, 2021:
Speaker, Disability Critical Race Theory in American Law, Byron R. White Constitutional Law Speaker Series, Boulder, CO (virtual)
December 4, 2020:
Panelist, The Future of Olmstead: 2020 and Beyond, American Bar Association, Washington, D.C. (rescheduled to virtual conference)
October 28, 2020:
Panelist, Is Criminal Justice Possible?, Brooklyn Law School, Brooklyn, NY (rescheduled to virtual conference)
August 26, 2020:
Panelist, Creating Non-Complicit Lawyers, A Discussion on Usual Cruelty, New Press (rescheduled to virtual conference)
August 12, 2020:
Panelist, Defunding the Police: A Conversation, Buffalo Law School, Buffalo, NY (rescheduled to virtual conference)
April 17-18, 2020:
Presenter, Michigan Junior Scholars Conference, Michigan Law School, Ann Arbor, MI (rescheduled to virtual conference)