Back to Top
UCI Law Criminal Justice Clinic Sees Success with Compassionate Release Project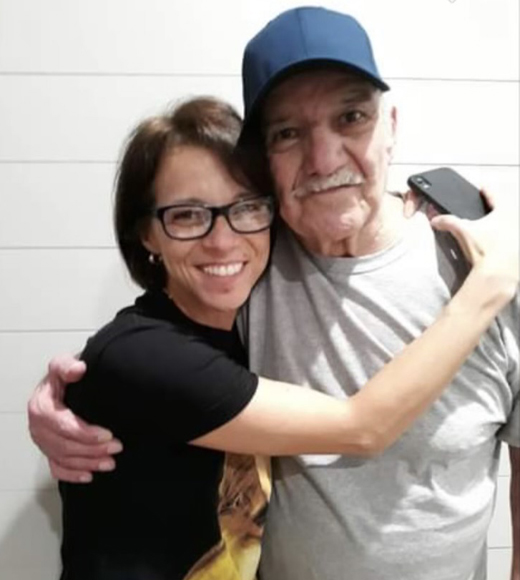 IRVINE, Calif. (Jan. 28, 2021) — The University of California, Irvine School of Law (UCI Law) Criminal Justice Clinic (CJC) has been working tirelessly for the compassionate release of federal prisoners who are serving lengthy prison offenses. CJC began the Compassionate Release Project in 2017 with the goal of fighting for the release of prisoners and to bring attention to issues of unjust and lengthy sentences and the accelerated aging of elderly prisoners.
"For decades, the federal criminal justice system has been sentencing individuals to extremely long prison sentences. These sentences, although now recognized by many as overly harsh and unjust, continue to imprison individuals who deserve to be released," said Katharine Tinto, Director of the Criminal Justice Clinic and Clinical Professor of Law at UCI Law.
Students in CJC represent federal prisoners across the country, seeking their release first from the federal Bureau of Prisons, and if denied, filing a motion in the federal district court where their client was initially sentenced. Grounds for release include rehabilitation, age and deteriorating health, length of sentence served, and whether the individual is serving a sentence longer than he or she would receive today for the same offense.
When the COVID-19 pandemic erupted in the prisons, CJC expanded its work to advocate for the release of medically vulnerable prisoners. In addition to providing direct representation, CJC developed materials to assist pro se individuals in requesting compassionate release or home confinement.
Since starting this project in 2017, the CJC has successfully won the release of several individuals, including four of whom were serving life sentences. Earlier this month, Kenneth Fragoso and Luis Gonzalez, two CJC clients who were serving life sentences, were granted presidential clemency. CJC submitted both individuals' clemency petitions as part of the NACDL's Trial Penalty Clemency Project, a project that promoted the granting of clemency to individuals who were sentenced harshly after exercising their constitutional right to have a trial.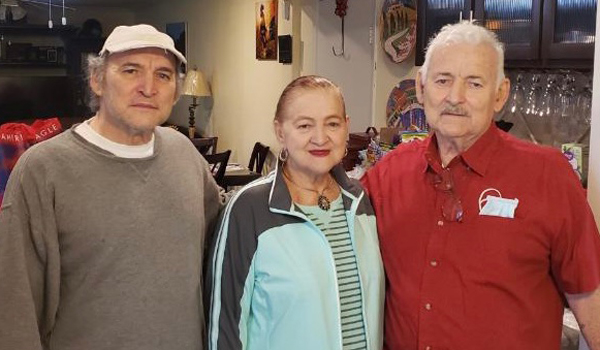 Photo: Kenneth Fragoso (left) with his sister Jeanette and brother Julian. 
Mr. Fragoso is a 66-year-old U.S. Navy veteran who was serving a life sentence for a nonviolent drug offense. He had served more than 30 years in prison, was in failing health, and had decades of demonstrated rehabilitation. UCI Law 3Ls Rose Statman and Keenan Kros worked on Mr. Fragoso's case for many months. Initially, the CJC requested compassionate release for Mr. Fragoso from the Bureau of Prisons and then, in collaboration with Evan Howze of the Office of the Federal Defender, Southern District of Texas, petitioned for his release in federal court. Both petitions were denied. Wanting to try any possible avenue of release, Mr. Fragoso's case was then submitted as a presidential clemency petition, which was granted on January 19, 2021. Mr. Fragoso is now living with his sister and large extended family in Texas.
Mr. Gonzalez, 78-years-old, was also serving a life sentence for a non-violent drug offense. Prior to receiving clemency, he had served over 27 years in prison. If sentenced today for the same offense, Prof. Tinto explained, he would have been released more than eight years ago. Mr. Gonzalez, who is in declining health, had an exemplary employment record while incarcerated, and many supervisors supported his release. UCI Law 2Ls Meg Hinson and James Kim authored his compassionate release petition to the Bureau of Prisons which was then transformed into a presidential clemency petition. They were about to file a compassionate release motion in federal court when his clemency petition was granted on January 19, 2021. Mr. Gonzalez is now living with his daughter in Texas, near his many siblings, children, and grandchildren.
"Compassionate release is a powerful vehicle to show a federal judge why a person, who has been incarcerated for decades and had demonstrated consistent and profound rehabilitation, should no longer be incarcerated," said Prof. Tinto. "But when a petition is denied, like it was for Mr. Fragoso, we will try every avenue on behalf of our client, from applying for clemency to the re-filing of the compassionate release motion and trying again."
"Despite my critique of how the executive clemency power was used during the past four years, CJC is thrilled that both Mr. Fragoso and Mr. Gonzalez were recognized as two individuals who truly deserved our compassion. I hope that our next President expands the transparency and use of his clemency power so that many more deserving individuals are released from prison," said Prof. Tinto.
Late December 2020, CJC also secured the release of Alan Poulnott. Mr. Poulnott was granted compassionate release by a federal district court in Atlanta and was released on Jan. 12, 2021 after serving over 32 years in prison.
In August 2020, the CJC won the compassionate release of David Stringer, a 74-year-old veteran who served over 17 years in prison for a minor drug offense. His compassionate release petition was granted by a federal judge in the Eastern District of Texas. 
Earlier in the summer -- June 2020 -- a federal judge in Alabama granted the compassionate release of Richard Lynn. Mr. Lynn was serving seven concurrent life sentences for drug trafficking. Mr. Lynn is 65 years old and had served over 30 years in federal prison. 
The Clinic's first compassionate release victory was in July 2019, when Arturo C., 69 years-old, was released from a life sentence in prison after serving 30 years for a non-violent drug offense.
CJC also supports their clients upon release. This is a critical component of the work that has been made possible through a partnership between the UCI Law Clinics and the California State University, Fullerton Department of Social Work. As part of that partnership, social work student Erin Ryu has been assisting clients of CJC's Compassionate Release Project with filing for their stimulus checks from the IRS and helping those recently released obtain their Social Security card, driver's license, and medical insurance.
About the University of California, Irvine School of Law
The University of California, Irvine School of Law is a visionary law school that provides an innovative and comprehensive curriculum, prioritizes public service, and demonstrates a commitment to diversity within the legal profession. UCI Law students have completed more than 110,000 hours of pro bono work in the past decade. Forty-six percent of UCI Law's graduates are students of color. At UCI Law, we are driven to improve our local, national, and global communities by grappling with important issues as scholars, as practitioners, and as teachers who are preparing the next generation of leaders. The collaborative and interdisciplinary community at UCI Law includes extraordinary students, world-renowned faculty, dedicated staff, engaged alumni, and enthusiastic supporters. More information on UCI Law is available here. Please follow us on Twitter @ucilaw and on Facebook @UCIrvineLaw.
Media Contact:
Mojgan Sherkat
Media Relations Specialist
msherkat@law.uci.edu 
949-824-7937