Back to Top
Student Perspective: Successfully Negotiating Bond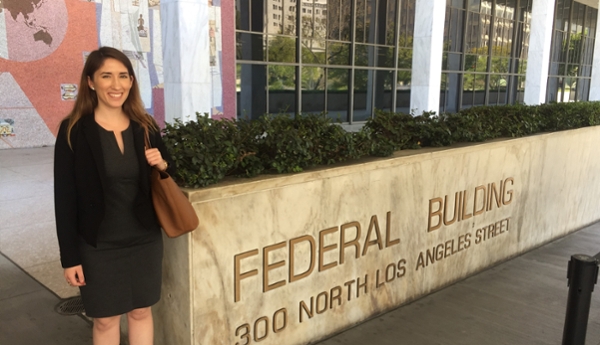 On Saturday, Jan. 14, UCI Law hosted a Martin Luther King Jr. teach-in event to train local attorneys, law students, and activists on ways to prepare to face potential legal challenges stemming from the new administration's policies.
One of the many break-out sessions was "Immigration Law – Bond Representation Training" taught by Profs. Sameer Ashar, Jennifer Chacón, and Annie Lai. After the day-long session, Anna Davis, Director of Public Interest Programs, paired interested local attorneys with UCI Law students to create pro bono teams that would take on immigration bond cases.
I was paired with Ms. Anjana Gupta, a local immigration attorney. After a few weeks, we were referred our first case out of the James Musick detention center. Our client came to the U.S. from Egypt and was seeking asylum from religious persecution. The client asked for asylum at the U.S.-Mexico border and was taken into detention after passing a credible fear interview. The client had been detained for six-months, and was therefore eligible for a Rodriguez bond hearing in which the government has to show that his continued detention pending his asylum case is warranted.
I worked with Ms. Gupta over the phone to prepare for our first client meeting, and we then met with our client in the detention center. We gathered as much information as we could, and then began to prepare for the bond hearing. I reached out to the client's family, who only spoke Arabic, so I solicited help from Sophie Tarazi '19 to translate. I also prepared direct examination questions, rebuttal questions, and a brief oral argument in support of our client's case. I then drafted a Rodriguez bond motion, which incorporated supporting facts gathered from the client's family as well as my legal research in support of the motion.
Finally, it was time for the bond hearing. Ms. Gupta and I went to the Los Angeles immigration court prepared to argue. When we arrived, however, we noticed our client was missing. The government was happy to work with us nonetheless, and I had the opportunity to negotiate with opposing counsel and stipulate to a bond amount. What would normally be an adversarial hearing turned out to be a cooperative negotiation.
All in all, it was a great experience, a UCI Law team effort, and a success for the client. The client and the client's family are very happy with the results and look forward to being reunited.