Back to Top
UCI Law Kicks Off 15th Anniversary by Welcoming Extraordinary New Students and Faculty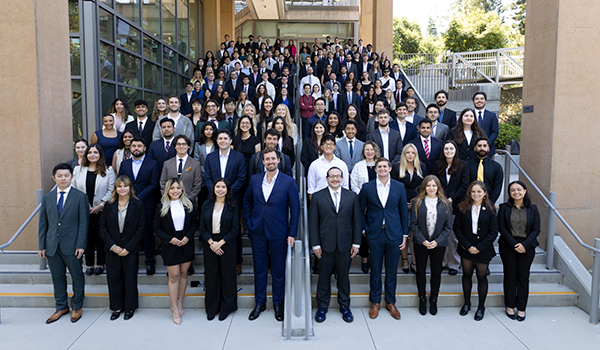 IRVINE, Calif., Sept. 6, 2023 — The University of California, Irvine School of Law (UCI Law) kicked off the 15th anniversary since our founding in 2008 with a total of 187 new J.D., LL.M. and Graduate Tax Program students from 34 states and 11 countries. In addition to new students, the Law School also announced four new full-time faculty members and two visiting faculty members. These new faculty members bring a wealth of expertise to UCI Law as lauded scholars in their respective fields. We also look forward to celebrating our Alumni Reunion with UCI Law's classes of 2013 and 2018 on September 9. 
 
"We are thrilled to start this year with our new students and faculty members," said Dean Austen Parrish. "UCI Law fosters innovation, promotes excellence in legal education and is tremendously committed to student success. This is an exciting time to be here and the energy on campus is palpable." 

The J.D. Class of 2026

UCI Law began the fall 2023 semester with the 15th class of 152 first-year J.D. students. The class of 2026 is a remarkable group with students of different backgrounds, talents and interests. Notably, 53 percent are students of color, 27 percent first-generation students, and 30 percent identify as a member of the LGBTQIA community. Student ages range from 21 to 40 and hail from 62 undergraduate institutions from around the country. More than 80 percent of the class arrive at UCI with post-undergraduate work experience.

Collectively, the class includes:
| | |
| --- | --- |
| Students of Color  | 53% |
| First Generation | 27% |
| Member of the LGBTQIA Community  | 30% |
| Female | 49% |
| Male | 45% |
| Transgender or Gender Diverse | 3% |
| Age Range | 21-40 |
| Average Age | 26 |
| Veterans | 3% |
| Undergraduate Schools Represented | 62 |
| Languages Spoken | 32 |
| California Residents | 79% |
| Out of State Residents | 16% |
| International | 5% |
| Data as of 8/21/2023, based on self-reported responses | |
LL.M. Class
This fall, UCI Law welcomes our seventh class of 25 Master of Laws (LL.M.) students. The LL.M. program is a one-year, full-time course of graduate study for lawyers whose first degree in law is from outside of the United States and who wish to become educated about the legal system and practice of law in the United States. 
The 2024 LL.M. class brings talented lawyers from around the world to Orange County. This year's class hails from 11 countries, including China, Colombia, India, Iran, Japan, Kazakhstan, Saudi Arabia, South Korea, Taiwan, Turkey and Vietnam. The group includes experts in financial regulatory law, enterprise risk management, post-merger corporate integration and anti-corruption law. Our talented LL.M.s also include a former judge, a prosecutor of white-collar crime and a human rights advocate.

Graduate Tax Program

The UCI Law Graduate Tax Program welcomes its fifth cohort of 10 incoming students. This new class of students includes four UCI Law J.D. alums, a veteran and two international students from South Korea. The UCI Law Graduate Tax Program ranks No. 1 on the West Coast, among law schools with a graduate tax program, and offers an innovative, one-of-a-kind LL.M. curriculum that instills students with both the doctrinal depth and the practical skills needed to practice tax law at the highest levels in the U.S. or abroad.

About the University of California, Irvine School of Law
The University of California, Irvine School of Law is a visionary law school that provides an innovative and comprehensive curriculum, prioritizes public service, and demonstrates a commitment to equity within the legal profession. Nearly half of all UCI Law's J.D. graduates are people of color, and almost a third are first-generation students. At UCI Law, we are driven to improve our local, national, and global communities by grappling with important issues as scholars, as practitioners, and as teachers who are preparing the next generation of leaders. The collaborative and interdisciplinary community at UCI Law includes extraordinary students, world-renowned faculty, dedicated staff, engaged alumni, and enthusiastic supporters. Connect with us on Instagram, LinkedIn, Facebook, Threads, X, and sign up for our monthly newsletter for the latest news and events at UCI Law.