Back to Top
Domestic Violence Clinic
Law students in the Domestic Violence Clinic provide transformative legal representation to domestic violence survivors and their children.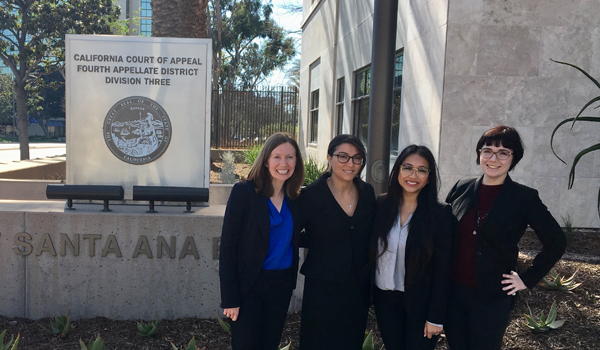 Students gain experience in multiple areas of the law and develop multi-dimensional lawyering skills while evaluating the benefits and limits of various interventions in the complex problem of domestic violence. Students primarily represent low-income abuse survivors in restraining order and family law trials and immigration matters. Because the Clinic strives to provide holistic services, students also represent clients in public benefits, housing and criminal cases and collaborate with community partners to address clients' safety and support needs.
Students in the Domestic Violence Clinic learn to be client-centered, culturally sensitive and reflective advocates while they hone their trial and lawyering skills and help clients achieve freedom from violence. To produce broader systemic change, students also engage in community education or policy advocacy projects.
---
"Our client might be able to actually live a happy and fulfilling life one day despite the abuse she faced over the last decade. If that happens, if she gets that chance, it will have been because of our hard work. It was one of the first times I've felt truly fulfilled in my life." — Andrew Kantor '14, Associate, Kantor & Kantor, LLP, Northridge, CA
---
End Result: Empowerment
Clients and students alike offer testimony of the Clinic's impact:
"I wanted you to know how much you've done for my life. I was worn out, emotionally drained and growing more discouraged by the day as I struggled to navigate my way through the court system. When you stepped in to help, it was like seeing the light at the end of the tunnel." — Client in the Domestic Violence Clinic
"I had the privilege of working with one particular client who had a horrific past of years of abuse by a husband who purported to love her. He intentionally burned her with a hot iron, choked her until she passed out, punched her in the face, slammed her onto the ground and kicked her, among other abuse. I met this client after she and her young children finally escaped her husband and were living in a shelter. I was immediately blown away by her courage and commitment to seeking safety for her children. After a contested trial, she was awarded a five-year restraining order with full legal and physical custody of her children. Preparing for the trial was hard work, but at no point did I feel anything but commitment and excitement. I came away from that courtroom experience with a new sense of confidence in my abilities as an advocate. Through our fact investigation for the restraining order, my partner and I also realized that this client qualified for immigration relief under the Violence Against Women Act, and we submitted her VAWA self-petition for legal permanent residency. Even more importantly, we showed this client that she was capable of starting over and that we believed in her." — Jessica Garland '15
Highlighted Project: Amicus Brief to Protect Immigrant Children 
In April 2017, the clinic, with co-counsel Mayer Brown, LLP and the Family Violence Law Project, filed an amicus brief in a significant California Supreme Court case involving domestic violence, juvenile immigration status, and child custody. In re Bianka M. involves a minor seeking Special Immigrant Juvenile (SIJ) status, a federal immigration status created by Congress to provide protection to undocumented, unaccompanied children who enter the United States after experiencing parental abuse, neglect, or abandonment.
Bianka, an unaccompanied minor, came from Honduras to the United States at age 13. She reported that her father physically abused her mother while she was pregnant with Bianka, including beating her mother with a machete. He abandoned the family before Bianka was born. Bianka requested that her mother be granted sole custody of her in California and that the court certify her SIJ status. The lower court denied her requests, finding that because Bianka's purported father was in Honduras, Bianka or her mother would have to solicit cooperation from him for the California court to exercise jurisdiction.
The amicus brief discusses how this decision, if allowed to stand, would broadly impact the ability of abused, neglected, and abandoned children to obtain SIJ status findings necessary to escape abuse. The lower court's ruling places abused children, children of abused parents, and survivors of abuse in the dangerous position of having to bargain with the abusive parent in order to be protected from that parent. The brief points out the lower court decision contradicts fundamental principles of California family and domestic violence laws, which prioritize the child's interests and require courts to lessen (rather than enhance) an abuser's power over a survivor of domestic violence. Oral argument is expected to occur in fall 2017.
Learn more about the Domestic Violence Clinic (PDF) >
In the News