Austen Parrish
Dean and Chancellor's Professor of Law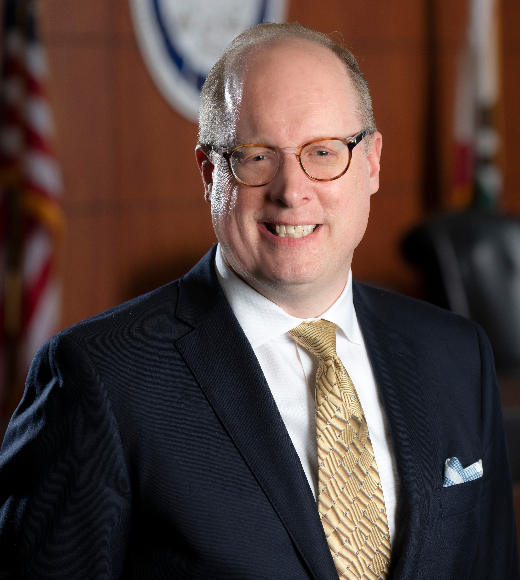 Expertise:
Transnational Law and Litigation, Civil Procedure, Constitutional Law, Federal Courts
Background:
Austen Parrish joined University of California, Irvine School of Law in August 2022 as its third dean. Previously, Dean Parrish was the Dean and James H. Rudy Professor of Law at Indiana University Maurer School of Law. 
In 2018 and again in 2021, he was named a Wells Scholars Professor for his work with Indiana University's prestigious Wells Scholars program. In 2019, he was bestowed with IU's Bicentennial Medal and, in 2022, he was awarded the Provost's Medal, the highest honor bestowed by the Office of the Provost, recognizing outstanding and transformative contributions to Indiana University Bloomington.  
Before joining Indiana University Bloomington, Parrish served as interim dean and CEO (2012-2014), vice dean (2008-2012), and the Irwin R. Buchalter Professor of Law (2007-2008) at Southwestern Law School in Los Angeles. From 2003 to 2010, he directed Southwestern's international and comparative summer law program in Vancouver, Canada, hosted by the University of British Columbia Faculty of Law in collaboration with the International Centre for Criminal Law Reform and Criminal Justice Policy, a United Nations affiliate. In 2015, he received an honorary doctor of laws degree from Southwestern Law School during its 100th year graduation ceremony, and in 2014 was honored by Southwestern's Alumni Board with its Outstanding Friend Award. 
Parrish is active in a variety of national organizations focused on legal education. He is an elected member of the American Law Institute. He serves as a member of the board of directors of AccessLex Institute, a nonprofit organization dedicated to the betterment of legal education with a focus on issues of access and affordability. In 2020, he began serving as a member of the Executive Committee of the Association of American Law Schools and a member of the AALS Deans Steering Committee. From 2015-2020, he served as a member, and then chair, of the AALS Membership Review Committee. He served as a member of the faculty/programming committee for the 2019 New Deans Workshop, and that same year the Indiana Supreme Court appointed him to the Study Commission on the Future of the Indiana Bar Examination.  
Parrish's research and teaching interests focus on transnational law, transnational litigation, and the role that national courts and domestic institutions play in solving global challenges. He is the author of numerous scholarly articles published in leading law reviews, and is the co-author of two books. He has particular expertise in legal and policy issues related to the extraterritorial application of domestic law. Over his career, he has taught a variety of courses, including Civil Procedure, Constitutional Law, Federal Courts, Transnational Law, International Environmental Law and Public International Law.  
Prior to entering academia, Dean Parrish was an attorney with O'Melveny & Myers LLP in Los Angeles, where he litigated in state and federal trial and appellate courts. Dean Parrish received his bachelor's degree from the University of Washington and his law degree from Columbia University, where he was a Harlan Fiske Stone scholar. 
Forgotten International Law: Legal and Political Struggles of Extraterritoriality (work in progress)
Extraterritoriality in International Law (co-edited with Cedric Ryngaert)
(Research Handbook, Edward Elgar Publishing, under contract, forthcoming 2023)
Parrish, Austen L. Hard-Nosed Advice from a Cranky Law Professor: How to Succeed in Law School. Carolina Academic Press, 2nd Edition, 2021.
Parrish, Austen L., and Cristina C. Knolton. Hard-Nosed Advice from a Cranky Law Professor: How to Succeed in Law School. Carolina Academic Press, 1st Edition, 2010.
Parrish, Austen. L., & Yokoyama, D. T. Effective lawyering: A checklist approach to legal writing and oral argument. Carolina Academic Press, 2nd Editon, 2012
Parrish, Austen. L., & Yokoyama, D. T. Effective lawyering: A checklist approach to legal writing and oral argument. Carolina Acad. Press, 1st Edition, 2007
2022 Provost's Medal, Indiana University Bloomington (highest honor bestowed by Provost)
2021 Class of 1941 Wells Scholars Professor
2019 American Law Institute, Elected Member
2019 Indiana University Bicentennial Medal Recipient
2018 Class of 1942 Wells Scholars Professor
2017 Indianapolis Bar Assoc., Board of Directors Award (Bar Exam Improvements Task Force)
2015 Honorary Doctor of Laws Degree Recipient, Southwestern Law School (100th Year Graduation)
2014 Outstanding Friend Award – Southwestern Alumni Association
2014 Commencement Grand Marshal, Southwestern Law School (student-selected)
2012 Commencement Grand Marshal, Southwestern Law School (student-selected)
2011 AALS Section on International Human Rights, selected paper
2011 Commencement Grand Marshal, Southwestern Law School (student-selected)
2008 Commencement Grand Marshal, Southwestern Law School (student-selected)
2007 Recipient of the Irwin R. Buchalter Professorship
2007 Excellence in Teaching Award (student-selected)
2007 Harvard/Boalt/UCLA Junior Environmental. Scholars Workshop, selected paper
2007 AALS Section on North American Cooperation, selected paper
2005 Award for Contribution to the 2004-05 Moot Court Honors Program
2004 Award for Contribution to the 2003-04 Moot Court Honors Program
2002 Constitutional Rights Foundation Mock Trial Coach of the Year
2002 County of Los Angeles Commendation