Back to Top
Anti-Racism Books and Various Resources Written by UCI Law Faculty Members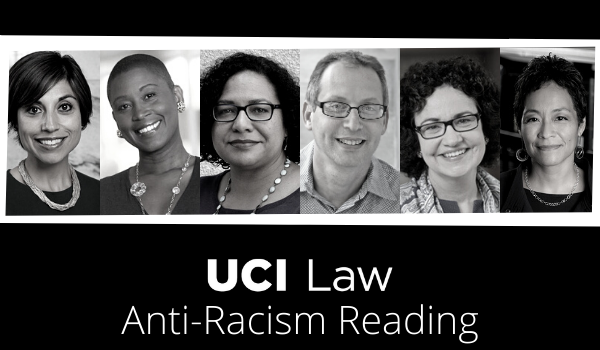 IRVINE, Calif. (July 30, 2020) — The University of California, Irvine School of Law (UCI Law) has identified and summarized books, research, creative activities, and many other resources authored by UCI Law faculty members who are experts on race, racial disparities, racial -- implicit and explicit -- biases, the criminalization of Black people, the criminalization of poverty, the racial wealth gap, and much more. The wealth of materials has been compiled in UCI Law's Anti-Blackness Racism Report, which highlights all that the law school has done and continues to do in documenting the Black experience within the law and the legal profession.
These resources analyze and interrogate the centuries of anti-Blackness and racism that exists in the United States. Simultaneously, these books can deepen people's awareness and understanding of these important issues.
The list of books written UCI Law faculty members includes:
Mehrsa Baradaran, Professor of Law
Michele Goodwin, Chancellor's Professor of Law
Kaaryn Gustafson, Professor of Law
Richard L. Hasen, Chancellor's Professor of Law and Political Science
Rachel Moran, Distinguished Professor of Law
L. Song Richardson, Dean and Chancellor's Professor of Law
Please note: The full list of resources -- including book chapters and reviews, the school's strategic priorities, journal articles, papers, research, events and much more -- is available here on the UCI Law website.
Media: If you are interested in speaking to one of our faculty members on these topics please contact Mojgan Sherkat, Media Relations Specialist at UCI Law, at msherkat@law.uci.edu.
About the University of California, Irvine School of Law
The University of California, Irvine School of Law is a visionary law school and provides an innovative and comprehensive curriculum, prioritizes public service, and demonstrates a commitment to diversity within the legal profession. UCI Law students have completed more than 100,000 hours of pro bono work in the past decade. Forty-five percent of UCI Law's graduates are students of color. The collaborative and interdisciplinary community at UCI Law includes extraordinary students, world-renowned faculty, engaged alumni, and enthusiastic supporters. More information on UCI Law is available here. Please follow us on Twitter and Instagram @ucilaw and SnapChat: ucilaw.