Mehrsa Baradaran
Professor of Law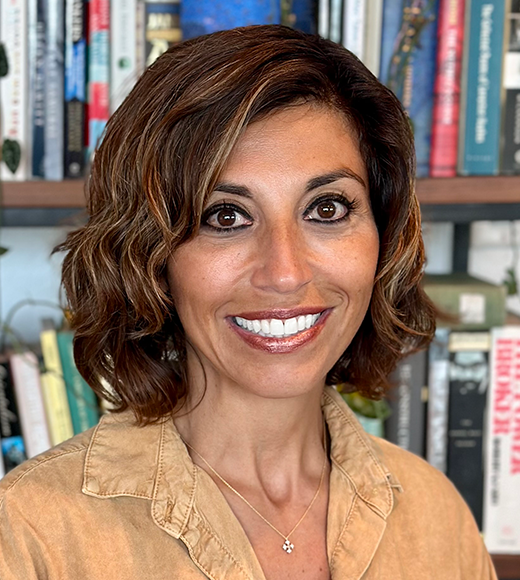 Expertise:
Banking law, contracts, property, housing, inequality
Background:
Mehrsa Baradaran is a professor of law at UCI Law.
Previously, she was the Robert Cotten Alston Chair in Corporate Law and Associate Dean for strategic initiatives with a focus on diversity and inclusion efforts and national and international faculty scholarship recognition at the University of Georgia School of Law.
Baradaran writes about banking law, financial inclusion, inequality, and the racial wealth gap. Her scholarship includes the books How the Other Half Banks and The Color of Money: Black Banks and the Racial Wealth Gap, both published by the Harvard University Press. The Color of Money: Black Banks and the Racial Wealth Gap was awarded the Best Book of the Year by the Urban Affairs Association, the PROSE Award Honorable Mention in the Business, Finance & Management category. Baradaran was also selected as a finalist at the 2018 Georgia Author of the Year Awards for the book in the category of history/biography.
Baradaran has also published articles including "Jim Crow Credit" in the Irvine Law Review, "Regulation by Hypothetical" in the Vanderbilt Law Review, "It's Time for Postal Banking" in the Harvard Law Review Forum, "Banking and the Social Contract" in the Notre Dame Law Review, "How the Poor Got Cut Out of Banking" in the Emory Law Journal, "Reconsidering the Separation of Banking and Commerce" in the George Washington Law Review and "The ILC and the Reconstruction of U.S. Banking" in the SMU Law Review. Of note, her article "The New Deal with Black America" was selected for presentation at the 2017 Stanford/Harvard/Yale Junior Faculty Forum.
Baradaran and her books have received significant national and international media coverage and have been featured in the New York Times, the Atlantic, Slate, American Banker, the Wall Street Journal and Financial Times; on National Public Radio's "Marketplace," C-SPAN's "Washington Journal" and Public Broadcasting Service's "NewsHour;" and as part of TEDxUGA. She has advised U.S. Senators and Congressmen on policy, testified before the U.S. Congress, and spoken at national and international forums like the U.S. Treasury and the World Bank.
She earned her bachelor's degree cum laude from Brigham Young University and her law degree cum laude from NYU, where she served as a member of the New York University Law Review.
Books:
Journal Articles and Book Chapters:
Rethinking Financial Inclusion: Designing an Equitable System with Public Policy, Roosevelt Institute (2020)
Banking on Democracy, 98 

Washington University Law Review

 353 (2020)
Closing the Racial Wealth Gap, NYU Law Review (2020)
Credit, Morality, and the Small-Dollar Loan,

 

Harvard Civil Rights-Civil Liberties Law Review (2020)
The Twenty First Century Homestead Act, The New Democracy Initiative, Roosevelt Institute (2019)
Jim Crow Credit,

9

 

UC Irvine. L. Rev. 887

(2019)
The New Deal and Black Banking Chapter
--Selected for the 2017 Stanford/Harvard/Yale Junior Faculty Forum
Regulation by Hypothetical, 

67 Vand. L. Rev. 1247-1326

 (2014)
--reprinted in the Corporate Practice Commentator and selected as the "10 Best Corporate and Securities Articles of the Year"
It's Time for Postal Banking, 

127 Harv. L. Rev. F. 16

5 (2014)
Banking and the Social Contract, 

89

 

Notre Dame L. Rev. 128

3 (2014)
How the Poor Got Cut out of Banking, 

62 Emory L.J. 48

3 (2013)
Reconsidering the Separation of Banking and Commerce, 

80  Geo. Wash. L. Rev. 385 (

2012)
--Selected for 2011 C-LEAF Junior Faculty Scholarship FellowshipThe ILC and the Reconstruction of U.S. Banking,

62 SMU L. Rev. 1143

(2010)
Feb. 10, 2022:
Featured Speaker, How the Tax System Impoverishes Black Americans – And How We Can Fix It, JFK Jr. Forum, Harvard Kennedy School, Online
Jan. 28, 2022:
Featured Speaker, The Color of Money: How Journalists Can Improve Their Coverage of the Racial Wealth Gap, Arthur L. Carter Journalism Institute, NYU, Online
Oct. 20, 2021:
Panelist, Racism and the Economy: Focus on the Wealth Divide, Racism and the Economy, District Banks of the U.S. Federal Reserve System, Online
Nov. 2020
Panelist, What's Next? The State of the American Economy, L.A. Times Festival of Books, Online

Oct. 2020
Speaker, "Reflecting on the 1619 Project in 2020: The Long Legacy of Slavery and the Current State of Race, UCI Humanities Center, Online
Sept. 2020
Panelist, "Race Matters," Teach-In on Racial Justice and the Law, Cincinnati Law, Online
June 2020
Testified before  U.S. House Committee on Financial Services Virtual Hearing on Inclusive Banking During a Pandemic
July 2019
Presenter, The Color of Money, Economic Policy Institute, Washington, DC
April 2019
Testified before U.S. House of Representatives Subcommittee on Consumer Protection and Financial Institutions, Washington, DC
December 2018
Keynote Speaker, Money as a Democratic Medium conference, Harvard Law, Cambridge, MA