Back to Top
UCI Law Student Awarded Prosecutor Scholarship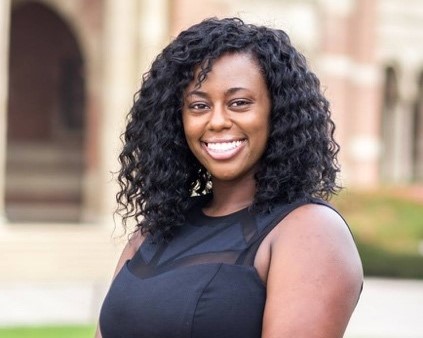 Growing up in Compton, Calif., 3L Jaquesha Scott witnessed how crime can plague a neighborhood. Now, with dreams of becoming a prosecutor, she plans to return home and help protect it.
"There isn't one attorney where I live," said Scott, who still resides in Compton and commutes roughly 32 miles daily to UCI Law. "I grew up only seeing legal careers on television and many people said that it wasn't possible."
A first-generation college student and former foster youth, Scott began her advocacy work at an early age: "I always had a passion for advocating for vulnerable individuals and groups, starting with bullies on the school yard," she said. 
That passion, coupled with her surrounding environment, motivated Scott to pursue a career as a criminal prosecutor. She attended UCLA immediately after high school, and then enrolled in UCI Law months after graduating with a degree in anthropology.
"I decided to attend UCI Law because it stood out as the one law school where I would have an opportunity to build the school's legacy," Scott said. "I am challenged daily to help define the school's legacy in my interactions, pro bono, and work product."
Following graduation, Scott hopes to become a district attorney for Los Angeles County, specifically in Compton, Norwalk or Inglewood, and wants to focus on hardcore gang and homicide cases. Later in her career, she aspires to be a district court judge.
Last month, the Black Prosecutors Association of Los Angeles (BPLA) awarded Scott its Alfred Jenkins Scholarship at the organization's annual awards dinner. The scholarship is presented annually to two second-year law students at ABA accredited law schools in Los Angeles or Orange County. The award is geared toward students interested in becoming local, state or federal prosecutors.
Scott previously externed with the Norwalk Hardcore Gang Division of the Los Angeles County District Attorney's Office. She has completed more than 135 hours of pro bono work in just two years of law school, working with the Legal Aid Society of Orange County, the Legal Aid Foundation of Los Angeles, and the Community Legal Service of Southeast Los Angeles. Scott completed her clinical requirement in UCI Law's Domestic Violence Clinic.
"I love being able to take the legal knowledge I have acquired through law school and use it to help disadvantaged groups and communities, like my home, through pro bono and externship programs," Scott said.
Scott participates in many UCI Law organizations – including the Black Law Students Association, the Public Interest Law Fund, and the UCI Pre-Law Society Mentor Program. Additionally, Scott was selected to serve as a UCI Law Community Fellow, and an Admissions Ambassador. 
"During her semester working with clients in the UCI Law Domestic Violence Clinic, I saw how Jaquesha quickly built relationships and established trust as she approached her clients with great compassion and commitment," said Prof. Jane K. Stoever, director of UCI Law's Domestic Violence Clinic. "She found purpose in sharing her knowledge of the law to empower communities in need, advocating for clients in court, and working with abuse survivors to carry out their goals. The UCI Domestic Violence Clinic congratulates Jaquesha on this significant honor."
UCI Law is committed to strengthening diversity in the legal profession. Forty-five percent of UCI Law's alumni identify as people of color. In February, preLaw magazine recognized UCI Law as one of the best law schools for diversity. 
"I hope that my pursuit and successes inspire young women coming from similar backgrounds as me to pursue higher education and careers in law," Scott said.