Domestic Violence Clinic
Law students in the Domestic Violence Clinic provide transformative legal representation to domestic violence survivors and their children.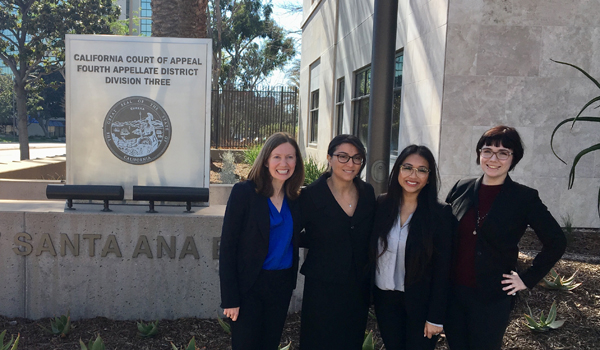 Students gain experience in multiple areas of the law and develop multi-dimensional lawyering skills while evaluating the benefits and limits of various interventions in the complex problem of domestic violence. Students primarily represent low-income abuse survivors in restraining order and family law trials and immigration matters. Because the Clinic strives to provide holistic services, students also represent clients in public benefits, housing and criminal cases and collaborate with community partners to address clients' safety and support needs.
Students in the Domestic Violence Clinic learn to be client-centered, culturally sensitive and reflective advocates while they hone their trial and lawyering skills and help clients achieve freedom from violence. To produce broader systemic change, students also engage in community education or policy advocacy projects.
---
"Our client might be able to actually live a happy and fulfilling life one day despite the abuse she faced over the last decade. If that happens, if she gets that chance, it will have been because of our hard work. It was one of the first times I've felt truly fulfilled in my life." — Andrew Kantor '14, Associate, Kantor & Kantor, LLP, Northridge, CA
---
End Result: Empowerment
Clients and students alike offer testimony of the Clinic's impact:
"I wanted you to know how much you've done for my life. I was worn out, emotionally drained and growing more discouraged by the day as I struggled to navigate my way through the court system. When you stepped in to help, it was like seeing the light at the end of the tunnel." — Client in the Domestic Violence Clinic
"I had the privilege of working with one particular client who had a horrific past of years of abuse by a husband who purported to love her. He intentionally burned her with a hot iron, choked her until she passed out, punched her in the face, slammed her onto the ground and kicked her, among other abuse. I met this client after she and her young children finally escaped her husband and were living in a shelter. I was immediately blown away by her courage and commitment to seeking safety for her children. After a contested trial, she was awarded a five-year restraining order with full legal and physical custody of her children. Preparing for the trial was hard work, but at no point did I feel anything but commitment and excitement. I came away from that courtroom experience with a new sense of confidence in my abilities as an advocate. Through our fact investigation for the restraining order, my partner and I also realized that this client qualified for immigration relief under the Violence Against Women Act, and we submitted her VAWA self-petition for legal permanent residency. Even more importantly, we showed this client that she was capable of starting over and that we believed in her." — Jessica Garland '15
In the News