Public Interest Law Fund (PILF)
The UCI Public Interest Law Fund provides financial support to UCI Law students working to address gaps in our justice system and to assist those with the greatest need in our community.
PILF seeks to enable all interested UCI Law students to serve the public interest—a core mission of UC Irvine School of Law—by providing work stipends, networking opportunities and informational resources so that students can work at non-profit organizations and agencies, helping real clients with real problems.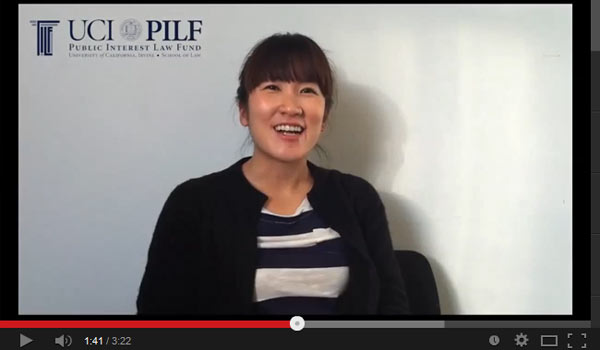 Because public-interest organizations rely on volunteer attorneys to provide pro bono assistance, the PILF stipends allow UCI Law students to cover basic living costs while they are working without pay. Since 2010, more than $500,000 has been distributed to UCI Law students for summer stipends, allowing students to volunteer well over 60,000 hours to assist underserved communities over the past four summers.
Fundraising for PILF is conducted in a variety of ways, but an annual spring gala is the signature event. About the annual PILF event >
Powered by PILF
Tina Sapounakis / Class of 2013

I worked at Public Law Center assisting with the legal claims of indigent clients who suffer with HIV or AIDS. I have already helped numerous clients ... Without the support of the summer stipend, I would not have had the ability to work at a public interest law firm. I am very grateful for the opportunity to advocate for such deserving clients and to serve the Orange County community.

Leah Gasser-Ordaz / Class of 2014

I worked at Public Law Center in Santa Ana on the Operation Veterans Re-Entry Project and I continue to volunteer there twice a week. The clients I worked with were very diverse but one especially resonated with me ... a veteran and victim of domestic violence who had accumulated a lot of student debt and was having her wages garnished. We are currently working to lower the percentage garnished per month, which has allowed her to focus on going back to school. It's rewarding to see her resilience as we work on her legal issues, and her confidence in moving forward with her life to a better future.

Amy Meier / Class of 2014

I worked at the Orange County Office of the Alternate Defender. One of our major projects stemmed from a recent decision by the California Supreme Court (People v. Rodriguez), holding that the crime of active participation in a criminal street gang (PC §186.22(a)) required the participation of fellow gang members, and therefore did not apply to a defendant acting alone. This decision applied retroactively, meaning large numbers of our clients who are currently serving time might be eligible for release. We reviewed hundreds of cases and drafted habeas writs for eligible clients, some of whom may soon be set free.

Vivian Lee / Class of 2012

I was one of four interns working with the Legal Team at the Port of Oakland. I gained direct experience with legal issues related to transactional work in cargo/shipping, trucking, rail transport, and land use development. It would have been an extreme hardship for me to accept an unpaid position, regardless of how valuable the training and experience promises to be.

Jacob Barak / Class of 2013

I worked at the main office of the Orange County Public Defender. The summer stipend allowed me to do this work, which was my first choice. I interviewed clients and wrote motions to reduce or withdraw their prior convictions. I researched a variety of procedural and substantive issues including unlawful detention, prejudicial joinder, and rape shield laws.