Back to Top
UCI Law Faculty Preview U.S. Supreme Court Term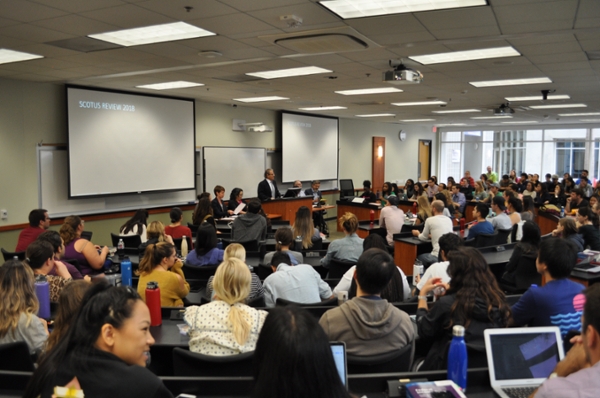 On Wednesday, a group of UCI Law faculty previewed the 2018-19 U.S. Supreme Court term to more than a hundred students.
Faculty presented the specifics and potential ramifications of several cases, including Weyerhaeuser Company v. U.S. Fish & Wildlife Service; Obduskey v. McCarthy & Holthus LLP; Nielsen v. Preap; Timbs v. Indiana; and Madison v. Alabama, among others. They also discussed the effects the term can have on several areas of law, including environmental law, criminal law, statutory analysis, election law, and immigration law.
The event concluded with a brief analysis of the future makeup of the court, pending the confirmation hearings of Judge Brett Kavanaugh.
A photo album of the event is available here.
The following professors participated in the event:
Richard L. Hasen, Chancellor's Professor of Law and Political Science
Dalié Jiménez, Professor of Law
Annie Lai, Clinical Professor of Law
Kate Levine, Visiting Assistant Professor of Law
Michael Robinson-Dorn, Clinical Professor of Law
Katharine Tinto, Clinical Professor of Law
Henry Weinstein, Professor of Law (moderator)