Back to Top
Why Pursue an LL.M. at UCI Law?
World-Class Faculty
Classes at UCI Law are taught by a brilliant group of dedicated and welcoming faculty. Our faculty members are extraordinary scholars. A recent study ranked their scholarly impact as No. 14 in the country. Equally important, they are also superb teachers and devoted mentors.  This unbeatable combination makes UCI Law a unique, dynamic and diverse intellectual community in which to learn and grow.
Impeccable Reputation
Individually and collectively, the faculty, staff, students, alums and friends of the Law School have made UCI Law a place of excellence and innovation in teaching, scholarship and public service. 
Small Class Sizes
Our student-faculty ratio is among the best in the country at 7:1 – this enables students to have more individual time with our outstanding faculty. We combine the best of a small, collegial and supportive environment with a large and renowned research institution.
Learning by Doing
Experiential learning is the core of our curriculum. We teach our students how to turn theory into practice and learn by doing, essential in developing practice-ready skills for lawyers. Public service is also at the very center of UCI Law's mission. Our programs provide students the opportunity and training to use their legal education to improve society.
Southern California Location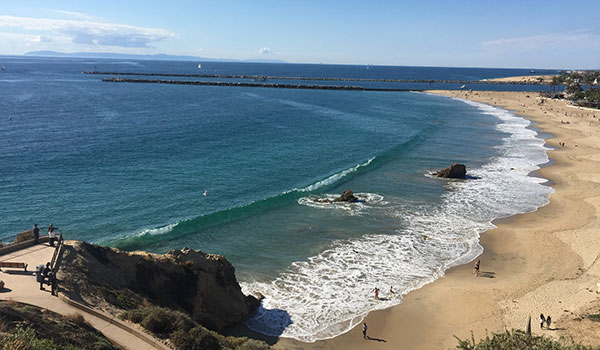 Our prime location in central Orange County, California  ̶  one hour south of Los Angeles and one hour north of San Diego – makes UCI a highly attractive place to spend a year studying law. Located about 10 minutes from the beach, the UCI campus is situated in Irvine, California. The city of Irvine has been ranked the safest city of its size in the U.S. for the 16th consecutive year. Among Irvine's many benefits are its pleasant year-round climate and easy access to many cultural, entertainment and outdoor attractions.  In addition, Southern California is a vast, highly desirable and sophisticated legal market home to prestigious international law firms, regional firms, and prominent public interest organizations. Orange County boasts a large and diverse economy home to some of the world's largest companies as well as entrepreneurial small startups. The business climate offers emphasis in a myriad of sectors, including real estate, high technology, international trade, health care and life sciences.
LL.M. to J.D. Transfer Process
A limited number of top performing Master of Laws students from UCI Law are selected each year to transfer from the LL.M. program to the UCI Law Juris Doctor program. The LSAT exam is not required for LL.M. students to apply as transfer students to the J.D. program. More information on the transfer policy can be found in our LL.M. Academic Rules.