Back to Top
Coral Lopez wins award in Beverly Hills Bar Association Rule of Law Competition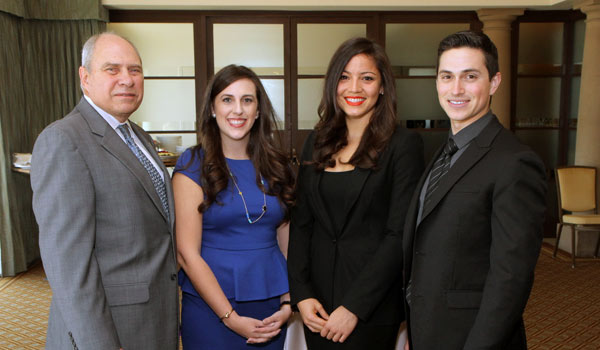 Coral Lopez '15, was chosen one of three prize winners in the Beverly Hills Bar Association (BHBA) 6th Annual Rule of Law Competition.
The competition, open to J.D candidates currently enrolled at an ABA or California accredited law school, seeks to promote appreciation and understanding of the Rule of Law. Participants must submit a previously unpublished article of 4,000-5,000 words that defines the Rule of Law or comments on the importance and the effects of the Rule of Law, its elements, or the lack of a Rule of Law on society.
Lopez's entry, titled "Domestic Violence in Puerto Rico: When the Rule of Law is Not Enough," examines Puerto Rico's Domestic Abuse Prevention and Intervention Act, enacted in 1989, and whether the law has protected women. She concludes that even in a society where the rule of law is clearly established, the law ultimately fails if society, law enforcement and the judiciary fail to support the cause.
As one of two Honorable Mention winners, Lopez received a $500 prize. She accepted the award at the BHBA's 61st Annual Supreme Court Luncheon, honoring the Justices of the California Supreme Court, on June 2, 2015. VIDEO of BHBA scholarship winners >
Lopez's decision to attend law school was inspired by her formative years in Puerto Rico, where she observed crime and injustice that she says instilled a sense of maturity at an early age. "I'm so thrilled about becoming a lawyer,"" she said, "so that I can use this power to be able to help fellow Latinos and our community, which is so deeply in need of legal services."
Lopez has participated in UCI Law's Domestic Violence Clinic and the Experian/Jones Day Moot Court Competition, in which she won a runner-up award for Best Brief. She has done pro bono work with the Public Law Center DACA and naturalization clinics, and with the Legal Aid Society of Orange County Employment Law Center. She has also served as a Staff Editor on the UC Irvine Law Review and as Pro Bono Director for the Latina/o Law Student Association.
Lopez also is the latest UCI Law recipient of the Hispanic Bar Association of Orange County's Wallace (Wally) R. Davis Memorial Scholarship.