Back to Top
UCI Law Students Travel to Beirut to Aid Refugees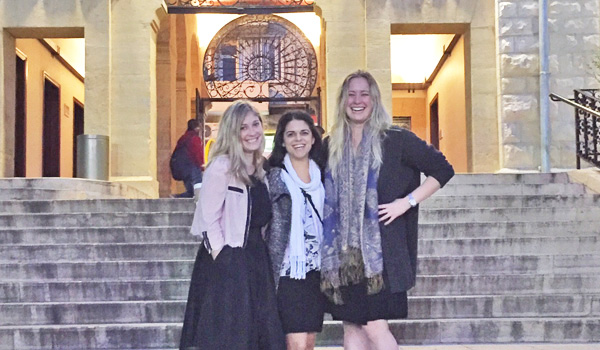 Three UCI Law second-year students, Shireen Ashtari, Ali Chabot and Alex McIntosh, describe their recent pro bono trip to Beirut, Lebanon to assist refugees seeking resettlement as heartbreaking and eye-opening. Organized by the International Refugee Assistance Project (IRAP) for a week in January 2016, the trip allowed the students to experience first-hand all facets of the refugee crisis, including the hardships faced by refugees, the challenges lawyers have in helping them, the governmental agency point of view and the international dilemma in solving the myriad of problems presented.
"The trip was an amazing chance to see how the Syrian refugee crisis has impacted Beirut in such a huge and sometimes devastating way," said Alex McIntosh, UCI Law 2L. "One in every five people is a refugee in Beirut."
The law students performed intake interviews with potential clients seeking resettlement to a different country. The students learned how to gear their interviews to assess whether the person met the legal definition for refugee status and whether they had any exclusionary problems that would prevent their success in resettlement. The students then made recommendations on how to handle the cases to IRAP.
"I learned so much about what it's like to be a refugee fearing for your safety and future and what it's like to be a lawyer helping these people," said Ali Chabot, UCI Law 2L. "We met with refugees in their homes, and talked to an LGBTI refugee about his struggles in a very hostile situation in Lebanon where LGBTI people are persecuted because of their sexual orientation. The discrimination against these very vulnerable refugees is appalling."
All three students want to continue their work on behalf of refugees after graduation.
"Our Beirut trip reinforced my commitment to continue working with IRAP and refugees after law school," said Shireen Ashtari, UCI Law 2L.
About International Refugee Assistance Project
IRAP is a national, student-driven organization where law students and pro bono supervising attorneys work together to help refugees from the Middle East and North Africa apply for resettlement to safe, new countries. IRAP National, located in New York, oversees student chapters in 26 law schools. The UCI Law chapter of IRAP was launched in 2010 by two students in our inaugural class who helped gain the release of an Iraqi Christian held in immigration detention in Southern California. The UCI chapter has continued to expand its work by resettling Middle Eastern and North African refugees in the United States and assisting those who have been wrongfully denied resettlement. As the world faces a humanitarian crisis the likes of which has not been seen since World War II, IRAP at UCI Law is working to empower and assist displaced men, women, and children across the globe. UCI Law IRAP is currently working with eight active cases and has resettled 10 refugees since 2008.
About UC Irvine School of Law
UCI Law is a visionary law school focused on training talented and passionate lawyers and driven by professional excellence, intellectual rigor, and a commitment to enrich our communities through public service. UCI Law is a collegial environment, and our faculty comprises accomplished, nationally ranked thought leaders from around the country with a broad range of expertise. More about the Law School is available at law.uci.edu.