Back to Top
Two UCI Law students awarded 2015 Equal Justice Works Fellowships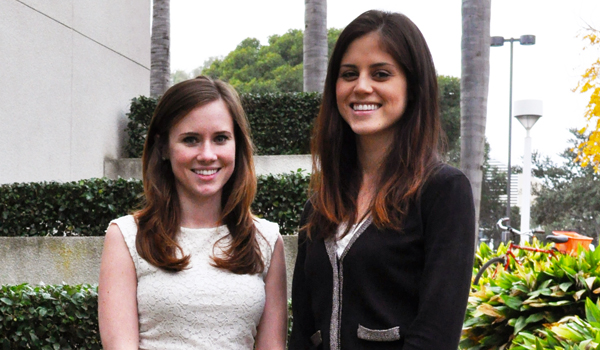 For nearly three decades, Equal Justice Works has provided two-year fellowships that allow law school graduates to create innovative projects benefitting communities in dire need of legal assistance. This year, two students — Pilar Ferguson '15 and Caroline Shurig '15 — became the first at UCI Law to receive a prestigious Equal Justice Works Fellowship.  
Projects designed by Equal Justice Works Fellows address a wide range of legal issues, including immigration, juvenile justice and health care. EJW matches fellows with sponsors that support their project, which is then implemented at a host organization. Ferguson, whose fellowship is sponsored by Microsoft Corporation and The Sidley Austin Foundation, will implement a new program at Kids in Need of Defense (KIND) in Los Angeles. Shurig, sponsored by Pfizer Inc., will launch her project at the Legal Assistance Foundation of Chicago.
In working with KIND, Ferguson will provide legal representation to unaccompanied child migrants seeking asylum or other forms of immigration relief after fleeing their countries due to serious forms of sexual abuse, domestic and gang violence, human trafficking or other heinous crimes. Ferguson also will create a social services directory to be used in Los Angeles and replicated in other KIND offices that will connect legal and non-legal service providers to better address the obstacles that child migrants face, including access to mental health providers and education services. 
"Last year, between January and July alone, nearly 4,000 unaccompanied children were released to sponsors living in California," Ferguson explains. "These children are placed with family or friends but often with someone they haven't seen in years, if at all. The children and sponsors then have to navigate a complex legal system and the public school system, as well as find and access medical and mental health providers, all without speaking the language. My project will provide additional legal representation for these children and will streamline their access to non-legal service providers."
Ferguson graduated magna cum laude from the University of Arizona with a B.A. in political science. At UCI Law, she serves on the Latina/o Law Students Association Board and the Advanced Clinic Students Advisory Board, and is a member of the Women's Law Society. She received a 2013-14 Pro Bono 100 Hours Award working with such organizations as KIND, Esperanza Immigrant Rights Project and the Public Law Center.
As an Equal Justice Works Fellow at the Legal Assistance Foundation of Chicago, Shurig will represent youth with unmet mental health needs in medical benefits and education cases, and will help identify systematic barriers to mental health resources. Her primary goals include expanding access to pediatric mental health services in Chicago's low-income communities and reducing the number of children expelled from or disciplined at school due to a manifestation of their mental illness.
"Mental health care remains one of the greatest issues in low-income communities." Shurig says. "Twenty-one percent of low-income children have mental health issues, and 80 percent of them do not receive services. Children and youth with mental health problems have lower educational achievement, greater involvement with the criminal justice system, and fewer stable and longer-term placements in the child welfare system than their peers. When treated, children and youth with mental health problems fare better at home, in schools and in their communities."
Shurig, currently the American Bar Association Law Student Liaison to the Standing Committee on the Delivery of Legal Services, graduated magna cum laude from Indiana University, Bloomington with a B.A. in international studies. Her pro bono experience includes volunteering with the American Civil Liberties Union, the Native American Boarding School Healing Coalition and Domestic Violence Declarations, and working with the Community and Economic Development Clinic.
Founded by law students in 1986, Equal Justice Works is a nonprofit organization dedicated to creating a just society by mobilizing the next generation of lawyers committed to equal justice. EJW Fellows belong to a community of more than 1,000 public interest lawyers who, through their fellowships, "have contributed greatly to their communities and helped move us closer to the goal of equal justice for all," said EJW executive director David Stern in letters to Ferguson and Shurig. Both students will graduate from UCI Law in May with Pro Bono High Honors.