Back to Top
University of California, Irvine School of Law Delegation Visits Korea to Strengthen Ties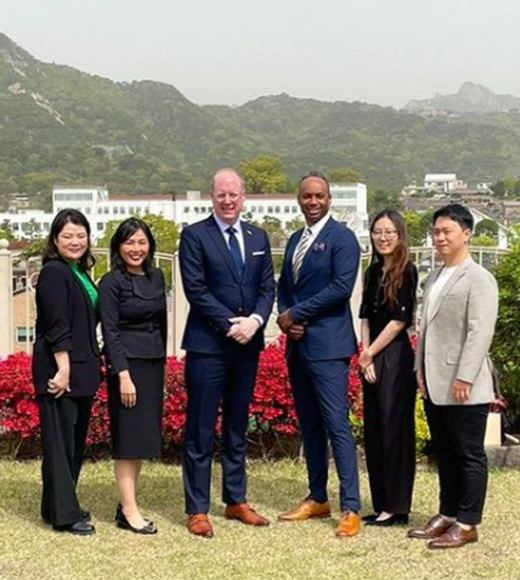 IRVINE, Calif. (May 5, 2023) - A delegation from the University of California, Irvine School of Law (UCI Law) recently visited South Korea to strengthen ties with the Korean legal community. The delegation, led by Dean and Chancellor's Professor of Law Austen Parrish, included Assistant Dean, Chief Global and Executive Programs Officer Khary Hornsby, Professional Development Advisor, Global Programs Grace Lee, Professor Stephen Lee, Professor Ji Seon Song, and two of our J.D. students, who are Korea Law Center Fellows.
The delegation met with representatives of the top law firms in Korea, including Kim & Chang and Lee & Ko. They also met with officials from the Constitutional Court, the Ministry of Justice, and the Korean National Diplomatic Academy.
In addition, they visited several universities and law schools in Seoul, including Seoul National University, Yonsei University, Ehwa Womans University, and Sungkyunkwan University. Upon returning to Irvine, the following week Dean Parrish met with the Executive Director of the American Law Center of Korea University School of Law, following up a meeting with Korean University's president from last fall.
The delegation also met with several nonprofit and public interest organizations. While in Seoul, the law school held an Alumni and Visiting Scholar Reception, signed a memorandum of understanding with Ewha Womans University Law School, discussed a new innovative summer program with SNU's Graduate School of Public Administration, and had many conversations about visiting scholars, J.D. student exchanges, and supporting LL.M. students.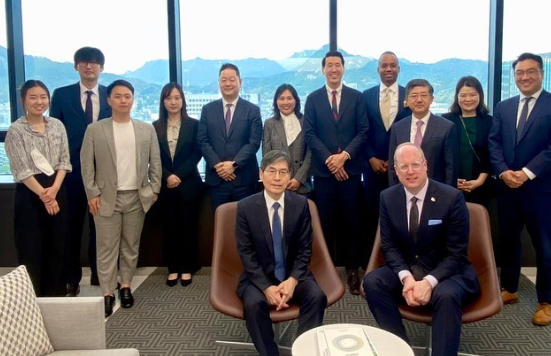 More than 10 of our LL.M. students are from Korea each year, the largest representation in our last three classes, and the most alumni for the LL.M. program. Dean Parrish also met with IP lawyers at Samsung.
The trip was a tremendous success in strengthening ties between UCI Law and the Korean legal community. The UCI Law delegation showcased the Law School's unique strengths — including the commitment to international education, strong faculty (including three faculty of Korean/Korean American descent), and accolades including being ranked the No. 1 law school for Asian students by preLaw Magazine.
The delegation also highlighted the Korea Law Center, one of the first academic centers established at UCI Law and one of only three Korea Law Centers in the United States. The delegation is confident that the trip will lead to further collaboration between UCI Law and Korean law schools and universities. Additionally, the trip helped to identify opportunities for collaboration. The delegation discussed a number of potential projects with Korean partners.
In addition to the trip to Korea, Dean Hornsby visited Vietnam where he met with multiple top law schools and universities in Ho Chi Minh City, Vietnam. He met with leaders at the law firm Tilleke & Gibbons International Ltd. to solidify plans for them to host a first-year summer intern from UCI Law. Additionally, Dean Hornsby visited with University of Economics and Law (Law Faculty), University of Economics and Law (Economic Law Faculty), Ho Chi Minh City Law University and Ton Duc Thang University Faculty of Law.
About the Korea Law Center at the University of California, Irvine School of Law
The Korea Law Center is one of only three Korea Law Centers in the United States and is one of the first academic centers created at UCI Law. The mission of the Korea Law Center is to study and promote solutions to issues arising at the intersection of U.S. and Korean Law. The Korea Law Center was established in 2009 to serve as a platform for exchange, collaboration, and the sharing of knowledge between students, legal scholars, judges, lawyers, and policymakers from South Korea and the United States. The Korea Law Center is directed by Sung Eun (Summer) Kim, Professor of Law. The Korea Law Center hosts 15-20 visiting scholars from Korea each semester, 1-2 visiting faculty from Korea each year, and 2-3 Research Fellows (Korean and Korean American). The Korea Law Center has strong community connections with the Korean American Bar Association of Southern California and the Korean Consulate of Los Angeles.
The Center engages in significant programming throughout the year, including a bi-annual Visiting Scholar Roundtable, Distinguished Public Lecture and Speaker Series, Conferences (this year the Trans-Pacific Business Law Dialogue with SNU and the Shuttle Symposium between UCI and Korea University), the Public Interest Law Forum, Career Panels and an upcoming summer program.
About the University of California, Irvine's Strong Ties to Korea
Nearly five percent of UCI's international students have been from Korea\UCI has welcomed nearly 200 Korean visiting scholars each year for the past five years. The UCI Foundation has three Korean American trustees including Carol and Eugene Choi, United Exchange Corporation, and Yang-Uk Kim, The Kim Yang Group. UCI has more than 10,000 alumni of Korean ethnicity or citizenship. In 2015, the UCI Alumni Association launched a Seoul chapter, which has more than 250 members. The Korean American chapter in Orange County/Los Angeles has nearly 200 members. Between 2017 and 2022, UCI faculty engaged in international research collaborations with nearly 300 Korean institutions and contributed to the publication of more than 20,000 research papers. UCI has more agreements with Korean universities than with any other single country. Additionally, UCI has academic centers focused on Korea, including the Center for Critical Korean Studies, funded by the Academy of Korean Studies and Ministry of Foreign Affairs in South Korea. The University offers curricular programs in Korean Studies, Korean Language Program and Korean Literature and Culture.