Back to Top
Our Mission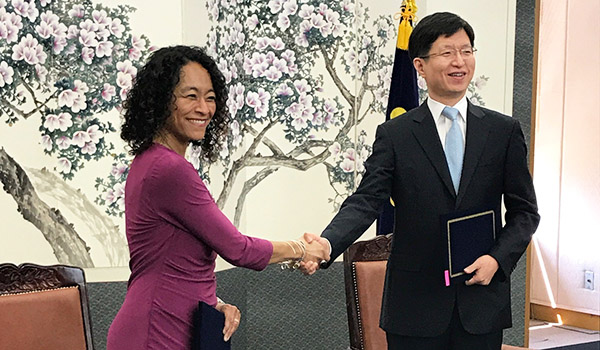 The mission of the Korea Law Center is to study and promote solutions to issues arising at the intersection of U.S. and Korean Law. The Korea Law Center was established in 2009 to serve as a platform for exchange, collaboration, and the sharing of knowledge between students, legal scholars, judges, lawyers, and policymakers from South Korea and the United States.
The Korea Law Center is directed by Sung Eun (Summer) Kim, Assistant Professor of Law.

Visiting Scholar Applications
The Korea Law Center welcomes applications to our Visiting Scholars Program for the 2020-2021 academic year. Visiting Scholars are expected to pursue research projects at the intersection of U.S. and Korean law, and contribute to the intellectual diversity of UC Irvine School of Law. The term of a Visiting Scholar's visit may be for one or two semesters. The application deadline is December 1, 2020, and decisions will be made on a rolling basis (no later than January 1, 2021). All decisions are subject to timely receipt and verification of information that is required by our campus, including English language certification and/or verification.
Please send a current CV and a one-page summary of your proposed research, together with a letter from your sponsoring institution (indicating UC Irvine as your designated institution, if applicable), to mgermain@law.uci.edu and klc@law.uci.edu. Your email should also specify your preferred dates of arrival and departure.
Please note that there is an administrative fee of $5,000 per semester for each Visiting Scholar. UC Irvine is unable to provide offices, housing, or insurance. Visiting Scholars may not register for courses and the Visiting Scholars program does not confer degrees or certificates. For those candidates interested in our LLM program, please visit http://www.law.uci.edu/llm/.
Contribute to the Center
The Korea Law Center is supported by charitable gifts and contributions. Please contact KLC@law.uci.edu for details about making a gift to the Korea Law Center.

2019 Chuseok and Fall Welcome