Back to Top
Media Advisory: At UCI Law, CFPB Director Rohit Chopra to Deliver Remarks on Ensuring Fair Dealing in Financial Markets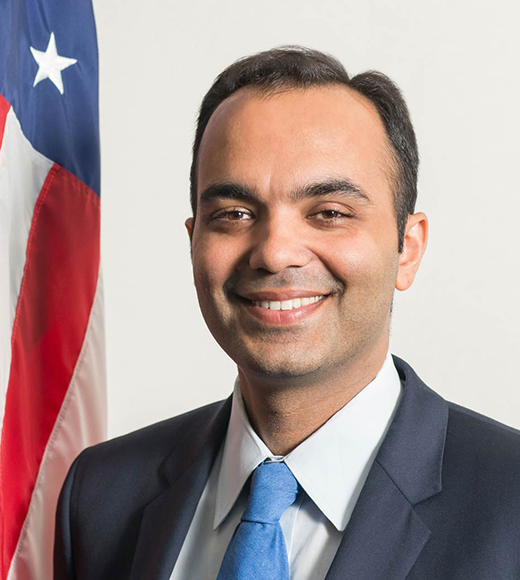 IRVINE, Calif. (March 30, 2023) — On Monday, April 3, the University of California, Irvine School of Law (UCI Law) will host Consumer Financial Protection Bureau (CFPB) Director Rohit Chopra for virtual remarks highlighting the Bureau's past work to address illegal conduct in the marketplace. Director Chopra's remarks will also focus on how the CFPB analyzes the standards of fair dealing in the face of evolving business practices.
WHAT: UCI Law Professor Dalié Jiménez will hold a virtual event with CFPB Director Rohit Chopra. The event is co-sponsored by the UCI Student Loan Law Initiative and the UCI Consumer Law Society.
WHEN: Monday, April 3, 2023 from 12:00-1:00 p.m. PDT/ 3:00-4:00 p.m. EDT
WHERE: This is a virtual event via Zoom Webinar and registration is required. Members of the public are welcome to attend. Please register here.
MEDIA REGISTRATION: Please register here and indicate media affiliation.
MEDIA CONTACT: Colleen Taricani, UCI Law Assistant Dean for Communications, ctaricani@law.uci.edu. For CFPB-related inquiries, please email press@cfpb.gov.
WHO:
About CFPB Director Rohit Chopra
Rohit Chopra is Director of the Consumer Financial Protection Bureau. The CFPB is a unit of the Federal Reserve System charged with protecting families and honest businesses from illegal practices by financial institutions, and ensuring that markets for consumer financial products and services are fair, transparent, and competitive. As Director, Chopra is also a member of the Board of Directors of the Federal Deposit Insurance Corporation and the Financial Stability Oversight Council.
In 2018, Chopra was unanimously confirmed by the U.S. Senate as a Commissioner on the Federal Trade Commission, where he served until assuming office as CFPB Director. During his tenure at the FTC, he successfully worked to strengthen sanctions against repeat offenders, to reverse the agency's reliance on no-money, no-fault settlements in fraud cases, and to halt abuses of small businesses. He also led efforts to revitalize dormant authorities, such as those to protect the Made in USA label and to promote competition.
The Director previously served at the CFPB from 2010 to 2015. In 2011, the Secretary of the Treasury designated him as the agency's student loan ombudsman, where he led the Bureau's efforts on student lending issues. Prior to his government service, Chopra worked at McKinsey & Company, the global management consultancy, where he worked in the financial services, health care, and consumer technology sectors.
Chopra holds a BA from Harvard University and an MBA from the Wharton School at the University of Pennsylvania.
About UCI Law Professor Dalié Jiménez
UCI Law Professor Dalié Jiménez's scholarly work focuses on contracts, bankruptcy and consumer financial distress, the regulation of financial products and its intersection with consumer protection, and access to justice. Professor Jiménez uses qualitative and quantitative empirical methods to explore the questions of how individuals cope with financial distress, how and whether our legal framework and institutions help or hinder individuals extricate themselves from this distress, and the role of the legal profession in helping individuals with this and other civil legal problems.
Professor Jiménez is one of a handful of legal academics currently using experimental techniques—randomized control trials—to explore some of these questions. She currently has three such randomized trial experiments in the works at various stages. Along with collaborators, she has raised over $1.4 million in direct and indirect costs for these projects. One of these projects inspired a legal nonprofit startup in New York.
Professor Jiménez spent a year as part of the founding staff of the Consumer Financial Protection Bureau where she worked on debt collection, debt relief, credit reporting, and student loan issues. Prior to her academic career, she clerked for the Honorable Juan R. Torruella of the United States Court of Appeals for the First Circuit, was a litigation associate at Ropes & Gray, L.L.P. in Boston, and worked on consumer protection issues at the Massachusetts State Senate.
About the University of California, Irvine School of Law
The University of California, Irvine School of Law is a visionary law school that provides an innovative and comprehensive curriculum, prioritizes public service, and demonstrates a commitment to diversity within the legal profession. UCI Law students have completed more than 135,000 hours of pro bono work since 2009. Forty-eight percent of UCI Law's J.D. graduates are people of color. At UCI Law, we are driven to improve our local, national, and global communities by grappling with important issues as scholars, as practitioners, and as teachers who are preparing the next generation of leaders. The collaborative and interdisciplinary community at UCI Law includes extraordinary students, world-renowned faculty, dedicated staff, engaged alumni, and enthusiastic supporters. More information on UCI Law is available here. Connect with us on Instagram, Linkedin, Twitter, Facebook, and sign up for our monthly newsletter for the latest news and events at UCI Law.