Back to Top
UCI Law Clinic Director David Kaye's Appointment as UN Special Rapporteur on Freedom of Speech Comes to an End; International Justice Clinic Reflects on Invaluable Experience Gained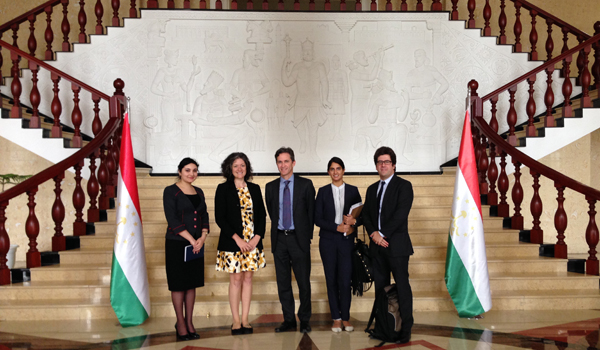 IRVINE, Calif. (August 11, 2020) — For the past six years, students in the UCI Law International Justice Clinic have had the opportunity to support Clinic Director David Kaye's work in his role as the UN Special Rapporteur on the Promotion and Protection of the Right to Freedom of Opinion and Expression. In the position, Prof. Kaye worked to defend and promote human rights and confront the challenges to freedom of speech and expression, especially in the digital age.
"The work monitoring free speech issues globally opened up an entire world of diplomacy and advocacy to me and our students at UCI Law," said Professor Kaye. "I think we developed insights into how international human rights law works, and doesn't work, and how it can advance justice worldwide, in a way that we never could have achieved working solely as outside advocates."
Since 2014, when the UN Human Rights Council appointed him to his first term as Special Rapporteur, Prof. Kaye and clinic faculty and students worked on numerous projects monitoring free expression issues globally.
"We got to consider the strengths and shortcomings of international legal frameworks and find opportunities to apply those teachings to advocacy efforts surrounding issues as they emerge in the digital age—considering social media platforms' responsibilities to protect freedom of expression and defending the right to privacy as governments acquire powerful monitoring technology, for example," explained Zoë McKinney, a 2016 graduate of UCI Law.
Some of the projects led by Prof. Kaye and the clinic included:
Providing cutting edge reports to the Human Rights Council on issues like digital security (encryption and anonymity), whistleblower protection, Artificial Intelligence and human rights, content moderation by social media platforms, the private surveillance industry, and online hate speech.
Evaluating the role of freedom of expression and access to information in the context of the COVID-19 pandemic.
Conducting official fact-finding missions, including Clinic students, to places as varied as Turkey, Tajikistan, Japan, Mexico, Liberia, Ecuador and Ethiopia.
Communicating with governments on problematic legislation, especially related to hate speech and cyber-crimes, and on alleged violations of human rights law (nearly 1500 such communications sent to Governments over the six years of his tenure).
"UCI Law is incredibly grateful for the work Professor Kaye and his students have done to help secure rights to freedom of expression for people in countries all over the world, and for his ability to translate his important position within the United Nations into such meaningful and innovative experiential learning opportunities for UCI Law students," said Carrie Hempel, the Associate Dean for Clinical Education and Service Learning at UCI Law.
Professor Kaye's appointment allowed students in the International Justice Clinic to gain invaluable experience by conducting research on cases specifically geared toward his work as the UN Special Rapporteur. Students had the opportunity to get involved in investigating major attacks and challenges against free expression and related human rights, in areas such as digital censorship and surveillance, hate speech regulation, threats against journalists and activists, and the erosion of artistic and academic freedom. 
"IJC with Professor Kaye was my most valuable law school experience. He taught me to examine issues of basic human rights through a lens other than the American judicial system – and challenged us to ask tough questions and rigorously pursue our interests," said McKinney.
Many other students noted similar experiences. Correy Miller '20 had this to say about her experience in the clinic.
"The International Justice Clinic was the best part of my UCI Law experience. Clinic work is intended to prepare students for the legal profession; IJC not only did that, but the projects I worked on and the people I worked with made the three semesters I participated in IJC highly enjoyable and provided a relevancy to my law school studies."
Students had the opportunity to work on domestic projects, as well as international ones – even traveling to other countries for fact-finding missions.
"In some respects, our country missions were the most meaningful to me and IJC students," Professor Kaye noted in reflecting on the past six years. "In December 2019, for instance, we spent about ten days in Ethiopia, a country moving from deep repression to democratic transition. We spoke to government officials and civil society activists and experts and learned about the intense challenges Ethiopians face, illuminating our work in a way that desk research and even long-distance interviews could never do."
"We still hear from activists and journalists from all over the world, people who seek our support or our views on the challenges they face," said Prof. Kaye. "I think this kind of interaction is not only invaluable as a part of UCI Law's clinical education; it really enables our students to see the breadth of opportunities to do legal work and to support justice initiatives inside and outside the United States."
More About the International Justice Clinic
The International Justice Clinic works with international activists, NGOs and scholars to develop and implement strategies for the protection of human rights. Clinic students pursue research, conduct on the ground fact finding in cross-cultural settings, engage in coalition building and multi-stakeholder dialogue, and prepare policy documents and recommendations. Clinic students also engage with local activists to explore specific country situations, and help develop regional networks of defenders committed to free expression. The clinic was named one of the Top 15 Most Innovative Clinics in the country by National Jurist's preLaw magazine.
About the University of California, Irvine School of Law
The University of California, Irvine School of Law is a visionary law school and provides an innovative and comprehensive curriculum, prioritizes public service, and demonstrates a commitment to diversity within the legal profession. UCI Law students have completed more than 100,000 hours of pro bono work in the past decade. Forty-eight percent of UCI Law's graduates are students of color. At UCI Law, we are driven to improve our local, national, and global communities by grappling with important issues as scholars, as practitioners, and as teachers who are preparing the next generation of leaders. The collaborative and interdisciplinary community at UCI Law includes extraordinary students, world-renowned faculty, dedicated staff, engaged alumni, and enthusiastic supporters. More information on UCI Law is available here. Please follow us on Twitter and Instagram @ucilaw.
Media Contact:
UCI Law
Mojgan Sherkat
949-824-7937
msherkat@law.uci.edu