Back to Top
UCI Law APALSA and Students Honored at National Convention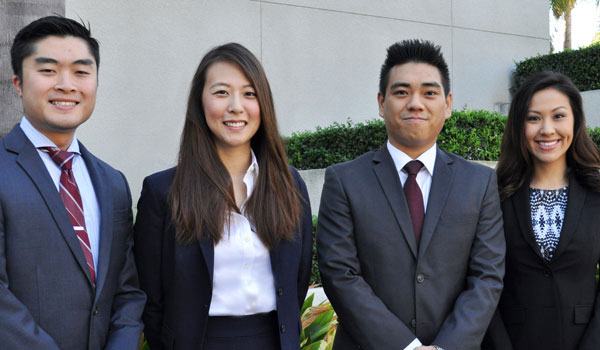 The University of California, Irvine School of Law chapter of the Asian Pacific American Law Student Association (APALSA) was awarded Affiliate of the Year at the National Asian Pacific American Bar Association Convention Nov. 5–8, 2015 in New Orleans. Additionally, Kellye Ng-McCullough ('16) won Student of the Year, Lawrence Liu ('16) was awarded a scholarship from the National Asian Pacific American Bar Association and Sophia Shin ('17) was elected Pacific South Regional Director of the National APALSA board.
About UCI Law APALSA
UCI Law APALSA, chaired by Eric Fanchiang ('17) and Sophia Shin, provides an effective forum on campus for Asian Pacific American (APA) issues with a focus on political advocacy, social justice, community service, leadership development and public interest lawyering. The UCI Law APALSA is the largest affinity organization on the Law School's campus and has managed to grow from six members in 2009 to 70 members presently. The UCI Law APALSA chapter makes a concerted effort to empower APA communities by donating countless hours of community service, raising funds for North Korean refugees, hosting career development events and inviting inspirational leaders to speak at UCI Law. For example:
UCI Law APALSA works with Asian Americans Advancing Justice – Los Angeles (AAAJ) to assist undocumented immigrants with determining eligibility for programs like Deferred Action for Childhood Arrivals and Deferred Action for Parents of Americans. Members of UCI Law APALSA are undergoing training to assist AAAJ with its upcoming Expungement Clinics to help remove barriers to job opportunities for low-level offenders. Members also volunteer with AAAJ's impact litigation and family law units.
UCI Law's chapter also hosted a "Liberty in North Korea" event, which highlighted several young North Korean defectors' experiences, with the purpose of raising funds for additional refugee rescue missions and resettlement assistance.
The group invites engaging speakers to campus, including ones that focus on APA LGBT rights, like criminal defense attorney Mia Yamamoto, considered a trailblazer in both the APA and LGBT communities.
Each year, the Law School's chapter organizes a career fair on campus for all the UCI Law students. UCI Law APALSA also hosted a career panel with the local Asian American bar association, the Orange County Asian American Bar Association (OCAABA), which focused on different legal career paths to help students learn more about various legal careers and gain mentorship opportunities from leading APA lawyers in the community.
About Lawrence Liu
Lawrence Liu grew up in Chinatown, New York City and witnessed first-hand the struggles of an immigrant community that lacked access to the most basic government and legal resources. Based on the challenges that members of his family faced, Liu was inspired to fight for social justice and advocate on behalf of underserved communities.
Winner of the NAPABA Law Foundation Scholarship, he plans to use these funds to serve the disenfranchised and underrepresented. In addition to his activities with APALSA, Liu co-founded the Business Law Society last year, helping to lead a student organization whose mission is to provide leadership training and networking opportunities for law students. He has also previously competed in both the Experian/Jones Day Moot Court Competition and UCI Law's Ballard Spahr LLP Mock Trial Competition. He now serves on the Judicial Relations Committee for the 2016 Experian/Jones Day Moot Court Competition as well as the UC Irvine Law Review. In his spare time, Liu is engaged in pro bono litigation work for AAAJ to defend the rights of immigrant workers engaged in a labor dispute and has also volunteered at immigration clinics hosted by the organization.
About Kellye Ng-McCullough
Winner of Student of the Year, Kellye Ng-McCullough serves as the current Pacific South Regional Director for NAPALSA. She has dedicated numerous hours of pro bono work to become involved in political and legal processes to create much needed protections for Asian Pacific Americans. She helped coordinate a partnership between AAAJ and UCI Law to increase law student participation with issues affecting APAs. Ng-McCullough now works with AAAJ in developing legislation to protect nail salon workers in California. In addition, she has assisted undocumented immigrants with determining their eligibility for programs like Deferred Action for Childhood Arrivals and Deferred Action for Parents of Americans.
"I am thrilled that APALSA at UCI Law was nationally recognized for all of its hard work in the community, said Kellye Ng-McCullough. "We're incredibly fortunate to have amazing members who care so deeply about giving back, and who strive to make our organization better each year."
In addition to her pro bono work, she is passionate about cultivating the next generation of APA lawyers. She is the chair of "Street Law," an organization in which law students and local attorneys teach introductory law classes to Santa Ana high school students. Many of these high school students will be the first person in their families to attend college. Ng-McCullough plans to start a chapter of Street Law in her hometown of Alhambra, California. She also has worked closely with attorneys and NAPALSA to promote inter-law school activities, helping to sponsor mixers that draw more than 100 students and lawyers, in both Los Angeles and Orange County. Ng-McCullough has also competed in the Experian/Jones Day Moot Court Competition at UCI Law, is on the Judicial Relations Committee for the 2016 Competition and worked on the UC Irvine Law Review.
About Sophia Shin
Elected to the National APALSA board for 2015-16, Sophia Shin is co-chair of UCI Law's APALSA chapter. As the elected Regional Director, Shin is responsible for communicating and coordinating with other APALSA chapters in Southern California, Nevada, New Mexico, Hawaii, Colorado, and Arizona. She will also help plan the 2016 NAPABA/NAPALSA Convention that will take place in San Diego.
"I am so honored to serve as NAPALSA's Regional Director for the Southern Pacific," said Sophia Shin. "I'm excited to represent UCI Law on a national platform and am looking forward to working with other law schools to address APA issues. I'm also so thankful for the Affiliate of the Year award. It means so much to us, especially since we are a student organization at a young law school."
Shin is also a member of the UC Irvine Law Review and Vice-Chair of External Relations of the Student Bar Association (SBA). She is also involved in numerous pro bono programs at the Law School such as the Public Law Center Naturalization Clinic and Connecting Angelenos to Resources and Essential Services (CARES), and participated in the Law School's spring break pro bono project at the Mississippi Center for Justice.
Before entering Law School, Shin worked in trial consulting and volunteered at the Legal Aid Society of Orange County. Last summer, she externed for Judge Scott Clarkson at the United States Bankruptcy Court, Central District of California and will be a summer associate at Greenberg Traurig next year.
ABOUT UC IRVINE SCHOOL OF LAW
UCI Law is a visionary law school focused on training talented and passionate lawyers and driven by professional excellence, intellectual rigor, and a commitment to enrich our communities through public service. UCI Law is a collegial environment, and our faculty comprises accomplished, nationally ranked thought leaders from around the country with a broad range of expertise. More about the Law School is available at law.uci.edu.