Back to Top
Moot Court Competition 2016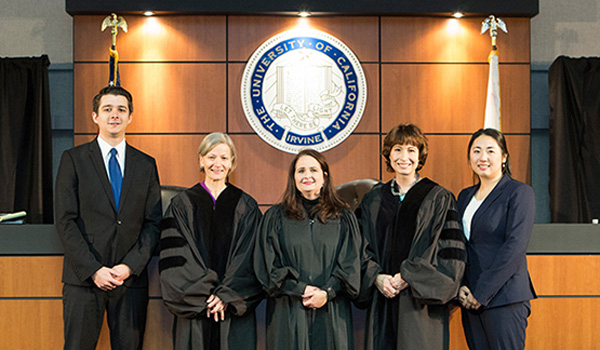 Final Argument
Monday, February 1, 2016
3:30–5:00 p.m.
UC Irvine Student Center, Crystal Cove Auditorium
Final Results
Best Oral Argument: Brett Long for the Petitioner
Runner Up: Jiaxiao Zhang for the Respondent
Best Brief: Sara Banco and Remick Stahl
Runners-Up: Ariela Rutkin-Becker and Emile Ayoub
Judges
Hon. Morgan Christen, U.S. Court of Appeals for the Ninth Circuit
Hon. Jennifer Walker Elrod, U.S. Court of Appeals for the Fifth Circuit
Hon. Patricia Ann Millett, U.S. Court of Appeals for the District of Columbia Circuit
Questions Presented
Is Wisconsin's Act 23, which implements a photo ID requirement for voters, unconstitutional under the Fourteenth Amendment?
Does Wisconsin's Act 23 violate Section 2 of the Voting Rights Act?
Dates and Deadlines
View the 2015-2016 dates and deadlines >
Competitors
View the full list of the 2015-2016 competitors >
The 2015-2016 Moot Court Board
UC Irvine School of Law Moot Court Board is comprised of third-year students who successfully participated in Moot Court previously. This year's Moot Court Board consists of the following members:
President: Ronald Park
Vice President of Administration: Yashina Burns
Vice President of Internal Competition: Leigh Dickey

Internal Competition Committee: Judy Chin, Samantha Rodriguez, Michael Olson

Vice President of Judicial Relations: Elizabeth Tissot

Judicial Relations Committee: Kellye Ng, Lawrence Liu

Vice President of Bench Brief: Aaron Benmark

Bench Brief Committee: David Rutan, Jacqueline Shepherd
Mission Statement
The mission of the UC Irvine School of Law Moot Court Board is to promote the development and refinement of students' legal research, writing and appellate oral advocacy skills by encouraging their participation in moot court competitions. Each year, the Board organizes an intramural moot court competition that asks students to address issues from real-life cases, with the ultimate goal of preparing them for their legal careers.
Scenes from Moot Court Spring 2016