Back to Top
UCI Faculty, Students Inform California and National Policy on Artistic Freedom of Expression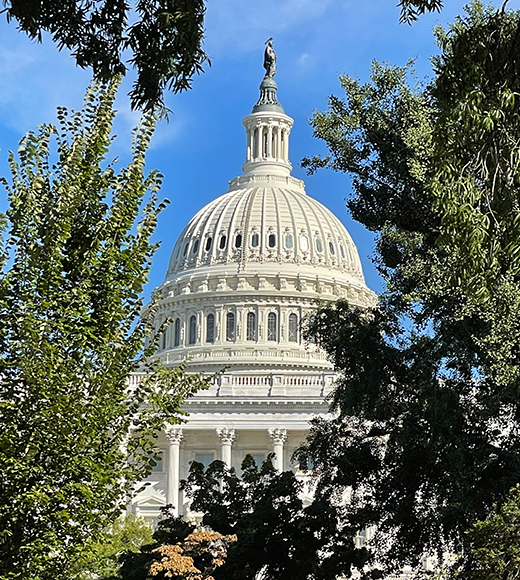 Rap on Trial Legal Guide proves a valuable resource to educate about the use of rap lyrics in criminal prosecutions
IRVINE, Calif. (Oct. 6, 2022) — University of California, Irvine School of Law Professor Jack Lerner and second-year clinic students, Jillian Lynk and Justin Stalberg, met with lawmakers in Washington, D.C. on September 29 to educate legislators about the issues raised by the Intellectual Property, Arts, and Technology Clinic (IPAT) in the "Rap on Trial Legal Guide" (Guide).  
The Guide is co-authored by Lerner, Clinical Professor of Law and Director of the IPAT Clinic, Professor Charis Kubrin of UCI Criminology, Law & Society, and IPAT students. It has served as a valuable resource to the bar, the public and policymakers to help them understand the problems that arise when prosecutors use artists' creative expression against them in criminal trials. 
"It was incredibly meaningful for us to be able to help legislators on Capitol Hill better understand this important issue," said Jillian Lynk, UCI Law 2L. 
The students also talked with lawmakers at a panel discussion that night entitled "Rap and the Rules of Evidence," which was introduced by Representatives Hank Johnson and Jamaal Bowman and attended by Congressional representatives and staff.
On the following day, September 30, 2022, California Governor Gavin Newsom signed into law AB 2799, the Decriminalizing Artistic Expression Act—the first legislation to address the problems created to prevent prosecutors from using rap lyrics to inject racial bias into criminal trials. Lerner and the IPAT Clinic played a part in developing this new legislation, helping members of the state Assembly and their staff understand this issue and educating other policymakers, legislators and the public. 
"This issue has come such a long way since we set out to create the Guide nearly five years ago," Lerner said. "We are very glad to have played a part in helping lawyers, policymakers and the public better understand what's at stake when prosecutors use rap lyrics to exploit and leverage racial bias."
Rap lyrics have been introduced as evidence in hundreds of cases, and a high-profile ruling by the Maryland Court of Appeals in 2020 allowed a few lines of rap to put a man behind bars for 50 years. UCI research by Professor Kubrin and others has found that such lyrics can bring out anti-Black racism in jurors. Advocates of the Restoring Artistic Protection (RAP) Act, a federal bill that has been introduced in the House but not yet passed, argue that although the First Amendment guarantees the right to freedom of expression, artists are sometimes still left vulnerable to prosecution. Safeguards like the RAP Act serve to protect artistic expression, and prevent instances where lyrics are taken out of context and used as evidence in criminal proceedings. 
"We are so pleased to see this critical issue getting the attention it deserves, and we hope the Guide continues to be a useful resource for those dealing with the use of rap lyrics in criminal prosecutions," Kubrin said.
The Guide serves as a comprehensive resource for attorneys dealing with rap lyrics introduced in any stage of criminal proceedings like initial discovery, trial or sentencing. It includes explanations of common rap conventions that may be unfamiliar to lawyers and jurors, an overview of empirical research on rap and bias, and analysis of evidentiary and First Amendment challenges to admitting lyrics into a trial. Along with the Guide, the authors provide a collection of cases involving rap lyrics and a set of relevant court briefs.
Over the past year, IPAT students have conducted workshops on this issue for hundreds of attorneys across the nation, including presenting a workshop at the National Association for Public Defense's annual conference. An updated Version 2.0 of the Guide is expected later this year.  
Law students in the UCI Law Intellectual Property, Arts & Technology Clinic contributed to the development of the Guide over a three-year period in close collaboration with Lerner and Kubrin. The "Rap on Trial Legal Guide," as well as a compendium of court cases and relevant briefs, can be found at endrapontrial.org. 
About the UCI Law Intellectual Property, Arts, and Technology Clinic (IPAT) 
Law students in the IPAT clinic work to support innovation and creative expression in the digital age. In the clinic, students advise and represent clients on a range of matters dealing with copyright, patent, privacy and media law, among other areas. Through this work, they gain important legal skills while examining the role of the public interest in intellectual property and technology law. More information about the clinic is available here and on Twitter at @UCIrvineIPAT. 
About the University of California, Irvine School of Law 
 
The University of California, Irvine School of Law is a top, visionary law school that provides an innovative and comprehensive curriculum, prioritizes public service, and demonstrates a commitment to diversity within the legal profession. UCI Law students have completed more than 135,000 hours of pro bono work since 2009. Forty-eight percent of UCI Law's J.D. graduates are people of color. At UCI Law, we are driven to improve our local, national, and global communities by grappling with critical issues as scholars, as practitioners, and as teachers who are preparing the next generation of leaders. The collaborative and interdisciplinary community at UCI Law includes extraordinary students, world-renowned faculty, dedicated staff, engaged alumni and enthusiastic supporters. More information on UCI Law is available here. Please follow us on Twitter @UCILaw, Instagram @ucilaw and Facebook @UCIrvineLaw. 
 
Media Contact
Colleen Taricani
Assistant Dean for Communication
ctaricani@law.uci.edu
Faculty Contacts
Jack Lerner
University of California, Irvine School of Law
Director, UCI Intellectual Property, Arts, and Technology Clinic
Phone: (415) 577-2455 / Email: jlerner@law.uci.edu
Charis Kubrin
UCI Criminology, Law, and Society
Email:
ckubrin@uci.edu
Phone: 202-262-368