Back to Top
Finding New Ways to Give Back: Public Service in a Year like No Other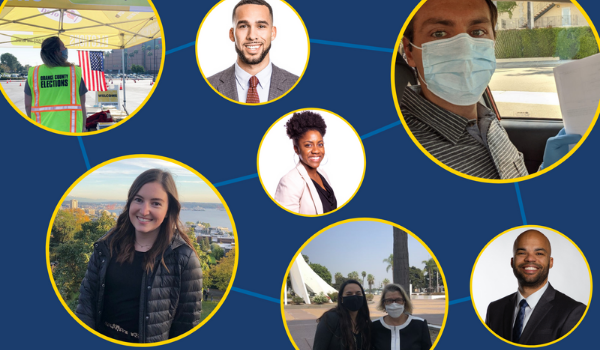 UCI Law students get creative during the pandemic to continue helping those in need
Students at the University of California, Irvine School of Law (UCI Law) have not slowed down one bit during the COVID-19 pandemic. In fact, they've stepped up in a variety of ways to continue to serve others. Whether it's representing clients through clinical work, taking on pro bono legal projects, or volunteering in the community, they have found new and creative ways to give back and along the way have gained valuable experience.
Below are a few summary highlights of the work UCI Law students have participated in since COVID-19 changed the world in March 2020.
As part of their pro bono work for Justice Warriors 4 Black Lives UCI Law students, Christopher Lawrence (3L) and Jasmine Smith (2L), testified virtually before the International Commission of Inquiry on Systemic Racist Police Violence Against People of African Descent in the U.S. (the Commission). A video of their presentation is available here – Chris and Jasmine's testimony begins at 12:25.
Nine UCI Law students spent part of their spring break volunteering virtually for the Mississippi Center for Justice by conducting research, collecting evidence, identifying witnesses, and much more. While MCJ usually hosts volunteers from a number of different law schools, UCI Law was the only school to provide spring break assistance in 2021.
More than 50 students engaged in election-related, non-partisan volunteer work leading up to and including Election Day. Volunteer roles including: poll monitors, poll workers, election protection hotline volunteers, and election protection social media monitors.
Jamison Whiting, a 3L at UCI Law, raised more than $14,000 to help out small businesses and community members in Minneapolis, Minnesota in the aftermath of the death of George Floyd. Minneapolis not only saw daily peaceful protests in response to Floyd's death, but it also faced riots and looting. Wanting to get involved, Whiting collected donations to help with clean-up efforts and to purchase food and other supplies for those in need as many resources had been burned or lost. Whiting grew up three blocks from where Floyd was killed.
Olivia Meme, 2020 UCI Law graduate, launched Orange County Grocery & Supply Delivery in March in order to get these goods to the elderly and others who need assistance after California went into a state-wide lockdown.
As the campus went remote in response to the pandemic, UCI Law's clinical program continued providing direct client representation and responding to emergent needs.
Students in the Community and Economic Development Clinic were in the process of interviewing clients and attending meetings on behalf of affordable housing and community group clients. As COVID-19 made its way into the community, without missing a beat, students began reaching clients with old and new technology -- continuing their work by email, Zoom, and telephone -- and even arranging for a traveling notary to visit a client's home so that a critical document could be signed.
In response to the COVID-19 crisis, Consumer Law Clinic advocated against the unprecedented financial harms stemming from the crisis, protecting consumers from garnishment of their stimulus payments, alerting regulators to COVID-19 related scams, advocating for long-term repayment options for homeowners, and requesting the suspension of debt-collection filings during court closures.
The Criminal Justice Clinic continued its representation of noncitizens who are seeking to undo old criminal convictions so that they are able to stay in the U.S. with their loved ones. In response to the pandemic, the clinic expanded its work to assist medically vulnerable federal inmates seek compassionate release from both the Bureau of Prisons and federal district courts across the country.
The Domestic Violence Clinic's work became more critical than ever during the COVID-19 crisis, with stay-at-home orders and extreme family stress, economic harm, and anxiety exacerbating abuse. Throughout the pandemic, the clinic continued its representation of abuse survivors in civil restraining order, custody and visitation, and immigration cases, and filed a new appeal.
As government bodies transitioned to remote meetings, hearings, and workshops, students in the Environmental Law Clinic worked to ensure that the public is still able to fully engage with decision-makers. This is of particular concern to the clinic's clients focused on promoting environmental justice, a key tenant of which is the meaningful involvement of communities in government activities that impact human health and the environment.
Immigrant Rights Clinic students continued representation of asylum seekers and longtime residents of Southern California in their bond proceedings, seeking and successfully securing their release from the Adelanto Detention Center. The students also worked on federal habeas litigation after the onset of the pandemic, seeking the release of longtime residents due to dangerous conditions at Adelanto.
The International Justice Clinic monitored the public health measures governments have been taking worldwide to ensure that they meet their obligations under human rights law. Students and faculty convened a meeting of United Nations experts to discuss the ways in which the COVID-19 pandemic has interrupted human rights work and to identify key human rights concerns. They convened a global meeting of activists to identify concerns related to freedom of expression during the pandemic.
The Press Freedom and Transparency practice within the Intellectual Property, Arts, and Technology Clinic completed substantial work in the midst of the pandemic. Under the California Public Records Act, the clinic obtained police body camera footage and other records of a police shooting of a mentally ill actress and sent letters to several law enforcement agencies requesting disclosure of secret settlement agreements with officers who contested misconduct allegations.
Some other remote pro bono activities UCI Law students have been involved in, in light of the pandemic and mandated physical distancing, include:
Border X Project – students have been helping with Humanitarian Parole requests to get individuals released from detention centers as they are more susceptible to COVID-19 while detained.
City Council Comments – students have been actively tracking city and county activity as it relates to COVID-19, and submitting public comment where it may adversely affect the homeless or housing insecure. 
Document Delivery – students are supporting legal services efforts by delivering documents to seniors and the medically compromised who are unable to leave their homes to sign documents in person, or to pick up important legal papers.
Research – students are conducting research for Community Legal Aid SoCal, Public Law Center, Public Counsel, Human Rights Initiative and Neighborhood Legal Services relating to housing, probation, delinquency, immigration, and mental health. Some of this work is related to COVID-19 (effects on parental visitation in the dependency system during quarantine), while other work is broader (housing discrimination).
Remote Clinics – students engaged last year in a legal clinic for transgender individuals, assisting with paperwork to request name and gender marker changes. The clinic was hosted remotely via Zoom thanks in large part to the flexibility of the supervising attorney, Stephen Hicklin.
In addition, UCI Law's Externship Program continued to serve the community while adapting to quarantine guidelines and varying work environments as they carried out their work. From March 2020 to March 2021, 187 students contributed more than 44,000 hours to courts, government agencies, and non-profit organizations around the country.