Back to Top
UCI Law Students Engaged in Election-related Volunteer Activities on Election Day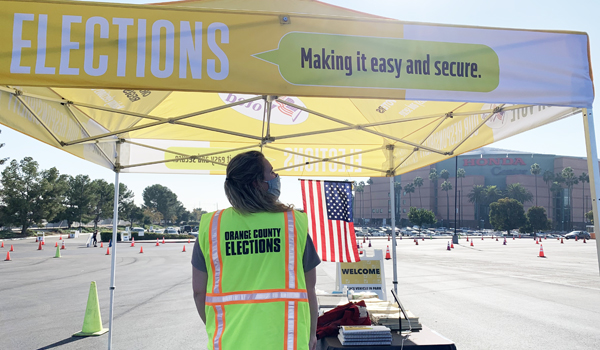 Students at the University of California, Irvine School of Law (UCI Law) engaged in election-related, non-partisan volunteer work leading up to and including Election Day. More than 50 students participated in volunteer roles including: poll monitors, poll workers, election protection hotline volunteers, and election protection social media monitors.
"Voting is the cornerstone of all other rights, and I am so proud that UCI Law students were able to step forward during the pandemic to insure access to free and fair elections," said Anna Davis, Director of Pro Bono Programs at UCI Law. "The American Bar Association put out a call for healthy, younger law students and attorneys to volunteer as poll workers, and UCI Law met that request in full force.  It is important for our students, as future attorneys, to understand the on the ground logistics of how the electoral system works.  I am especially grateful to the Orange County Registrar of Voters, Neal Kelley, and his team for providing law students with this opportunity."
Zachary Watson, a 2L at UCI Law, volunteered as both a poll worker and as an Election Protection Hotline worker. He explained that it was after reading Rick Hasen's – Chancellor's Professor of Law and Political Science at UCI Law – book "Election Meltdown" that he felt inspired to work the hotlines. Zachary spent more than 40 hours fielding questions from voters across the country during the 2020 election season – his takeaway: that hotline work strengthens American democratic institutions, and each voter interaction was an opportunity for him to feel a sense of contribution.
"The book clearly demonstrated that the most pervasive threat to our system of government is not fraud or sabotage -- rather, the broadest threat to our democracy is misinformation and well intentioned incompetence," Zachary said. "The problem, in other words, is not malfeasance, it's misfeasance. Communicating trustworthy information to the electorate addresses the problem head on.  My personal experience with the voters was generally very pleasant. People were happy to have a reliable source of information to ensure their vote would count and their voice be heard." 
Many other UCI Law students had positive encounters as well, and explained they found the process inspiring and were thankful for the experience.
"It was also just inspiring to be around folks who were working hard to make sure everyone had the opportunity to vote, even going out of their way to go through longer voting procedures in order to register or re-register people same-day so they were able to cast their vote," said Ethan Smith, a 1L at UCI Law. "In one instance a young man came in to physically assist his mother in voting, he was eligible to vote but thought he missed the deadline. The poll worker working with him made him aware that he could register same-day and walked him through the process so he could do so."
"It was a great opportunity to volunteer as a poll worker," said Caroline Nester, UCI Law Class of '23. "Was it exhausting and a long day? Yes! But, it also was really interesting to talk to my fellow volunteers! Also, I got to work in a drive through voting and multiple people brought dogs, which was so cute. More concretely, I think the people who supervised us were so kind and clear with instructions."