Back to Top
Jane Stoever, UCI Law Clinical Professor of Law, Recognized with 2020 Inclusive Excellence Spirit Award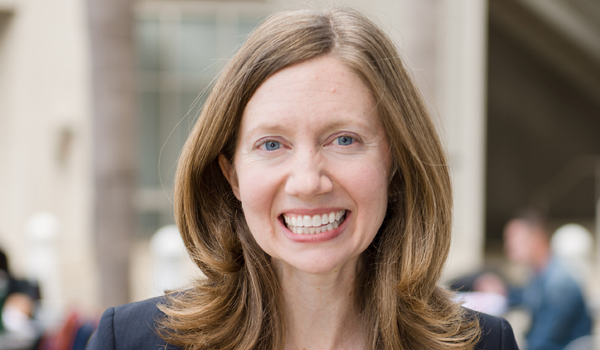 The University of California, Irvine School of Law (UCI Law) is delighted to announce that Clinical Professor of Law and Director of the Domestic Violence Clinic (DV Clinic) at UCI Law Jane Stoever received a 2020 Inclusive Excellence Spirit Award. The award, given by the UCI Office of Inclusive Excellence, supports faculty activities and projects that promote equity, diversity, and inclusion at UCI among faculty, students, and staff, as well as the wider campus community.
"I am grateful for this opportunity to develop and expand the UCI Law DV Clinic's gender-based violence prevention education in our region's high schools while creating online modules and resources," said Prof. Stoever. "Our DV Clinic clients typically endure lengthy histories of abuse before seeking legal representation, and it is so important to engage in abuse prevention and early intervention. Through the project, Teen Dating Violence Prevention: From the #MeToo Movement to Sustained Social Change, my DV Clinic students and I will help high school students consider what healthy and equitable relationships look like, examine their own expectations and behaviors, and be part of creating sustained social change while empowering students with knowledge of legal and community resources."
"We are so proud of this recognition of Jane's important work," said L. Song Richardson, Dean and Chancellor's Professor of Law at UCI Law. "Her project promotes healthy relationships and violence prevention. It advances diversity, equity, and inclusion at UCI and in our broader community, especially with the intersectional and critical perspectives that she brings to her teaching, research, and clinical work."
Recipients of the Inclusive Excellence Spirit Award receive funding for proposals that address at least one of the following five goals of the program:
Deepen the understanding of race, gender, class, sexuality, immigration status, and/or other identities
Promote emotional intelligence and intercultural competency
Build and sustain partnerships with community-based organizations
Advance achievement among educationally disadvantaged communities
Contribute to an affirmative climate for all members of the UCI community
Prof. Stoever's project will address all five goals. It will serve as a problem-solving lab, creating enduring resources available to all and equipping law students with the ability to lead discussions on gender-based violence dynamics as they learn litigation, advocacy, and community education skills in service of our community.
More about Jane Stoever
Prof. Jane Stoever has extensive experience teaching domestic violence clinics and engaging in scholarship in the areas of domestic violence law, family law, feminist legal theory, and clinical legal theory. In addition to her role as Clinical Professor of Law and the Director of the Domestic Violence Clinic at UCI Law, she is also the Director of the UCI Initiative to End Family Violence.
Prior to joining UCI Law, Professor Stoever was a faculty member at American University Washington College of Law, Seattle University School of Law, and she taught in Georgetown University Law Center's Domestic Violence Clinic. She previously served as a judicial clerk, worked at legal aid offices and at a shelter for teenage girls, and was a live-in staff member at a shelter for homeless families. Prof. Stoever graduated from Harvard Law School and received her LL.M. from Georgetown University Law Center.