Back to Top
First-Year Student Takes on President Trump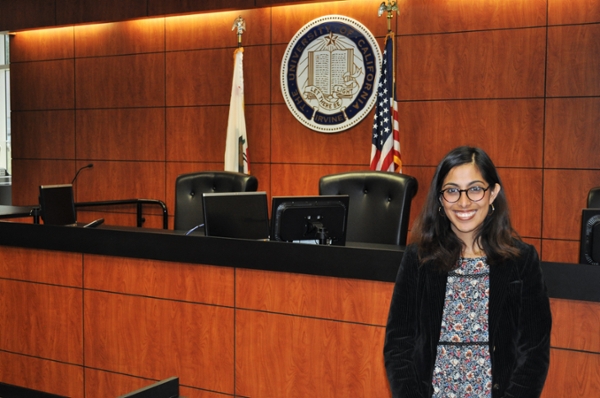 Acclimating to law school can be a challenge - even when you're not a named plaintiff in a lawsuit against the President of the United States.
That, however, is the reality facing first-year UCI Law student Viridiana Chabolla Mendoza. Earlier this month, during Chabolla's fourth week as a student, she received a phone call from Mark Rosenbaum, director of Public Counsel Opportunity Under Law and professor at UCI Law. The two previously worked together at Public Counsel, Chabolla as an organizer – helping identify and recruit plaintiffs, coordinating interviews, and fostering community awareness and support for civil rights litigation.
Now, she was the one being recruited as a plaintiff in a case against President Donald Trump for his decision to end the Deferred Action for Childhood Arrivals (DACA) program.
"When I started working with Professor Rosenbaum almost four years ago, I told him that I was a DACA beneficiary, and over time I was able to be open about my status, and how policies under the new administration were affecting not only me, but a lot of youth I know who are DACA beneficiaries."
While at Public Counsel, Chabolla was able to help on the case involving Daniel Ramirez Medina, a 24-year-old DACA recipient who was held in custody in for six weeks in Tacoma, Wash. for alleged, but unproven, gang affiliations. Prof. Rosenbaum explained to Chabolla that it would be the same group of attorneys working on the new lawsuit, which gave her confidence.
"They're not only incredibly smart but incredibly dedicated to this issue," Chabolla said.
After lengthy discussions with her family, friends, and husband, Chabolla agreed to sign on as a plaintiff, one of six. The "Dreamers case," Garcia v. United States of America, was filed in the Northern District of California on Monday, Sept. 18, and argues the U.S. government, in asking Dreamers to come forward and identify themselves in exchange for the protection to live and work in the United States, perpetrated a bait and switch. By doing so, the government violated the equal protection component of the Fifth Amendment and Federal Law, including the Administrative Procedure Act.
The impressive team of co-counsel for the plaintiffs includes UCI Law Professor Leah Litman; Theodore Boutrous Jr., Ethan Dettmer, Jesse Gabriel, and  Katie Marquart of Gibson, Dunn & Crutcher LLP; Luis Cortes Romero of Barrera Legal Group; Erwin Chemerinsky, founding dean of UCI Law, and dean and Jesse H. Choper Distinguished Professor of Law, University of California, Berkeley School of Law; Laurence H. Tribe, Carl M. Loeb University Professor at Harvard Law School; and Judy London, Public Counsel.
"Through my work at Public Counsel, I was able to see that lawsuits such as this are most powerful when people can see that it affects human beings; that it affects people whom they love," Chabolla said of her decision to sign on as a plaintiff. "I wanted to be a part of a lawsuit that focused on the human aspect."
Chabolla said she wanted to be a lawyer since she was a child. One of her first influences was her grandfather, who told her lawyers can fight with words. That "planted a seed," Chabolla said. Growing up, she was then cognizant of the struggles her community in East Los Angeles faced – labor law violations, immigration issues, unfair school systems, domestic abuse – and how an attorney could have helped.
Chabolla was accepted to the DACA program in 2012 while studying Sociology and Chicana/Latino Studies at Pomona College. She's interested in a pursing a legal career focused on addressing the larger systemic issues in immigration, with a component that allows her to do direct services and community education. In the little free time she has now, she enjoys spending time with loved ones and participates in a mentoring program for East Los Angeles youth.
Chabolla knew a DACA rescission was possible after Trump's election, but she tried to "lay low" and block it out. Instead she wanted to focus on adjusting to school and being a student again. She found solace in her faculty and classmates when Attorney General Jeff Sessions announced the end of the program earlier this month.
"I emailed (Interim Dean Song) Richardson, who is my statutory analysis professor, the night before and told her that Sessions' announcement would come during her class...so if I acted weird or have to step out of class, it's because of the announcement. It isn't because I didn't prepare for class."
Chabolla said she walked into Richardson's class to hear the interim dean make a statement of support for DACA beneficiaries. The same happened later that day in Prof. Christopher Whytock's class, she said. She's also found a supportive, welcoming group of classmates, and an incredible mentor in Prof. Rosenbaum; the two frequently chat about current affairs, as well as adjusting to law school.
Related News


UCI Law Hosts Trio Fighting Trump Administration
UCI Law Professors, Student Fight Trump's DACA Decision