Back to Top
UCI Law professors, student fight Trump's DACA decision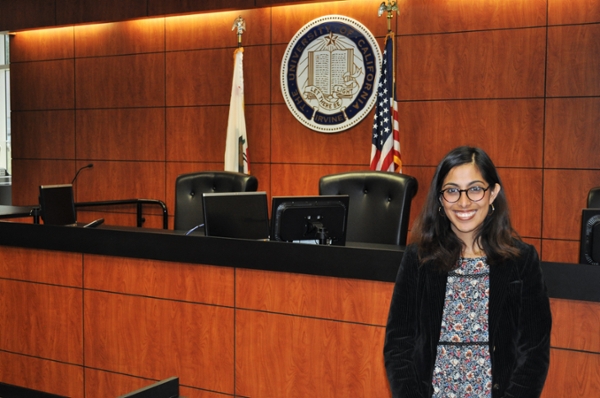 Two UCI Law professors and a first-year student filed suit against President Donald Trump, seeking to block the administration from ending the Deferred Action for Childhood Arrivals (DACA) program.
Profs. Leah Litman and Mark Rosenbaum are serving as co-counsel in the suit, filed in U.S. District Court in San Francisco, and Viridiana Chabolla Mendoza 1L (right) is one of six plaintiffs leading the charge.
Additional co-counsel for the plaintiffs include Theodore Boutrous Jr., Ethan Dettmer, Jesse Gabriel, and  Katie Marquart of Gibson, Dunn & Crutcher LLP; Luis Cortes Romero of Barrera Legal Group; Erwin Chemerinsky, founding dean of UCI Law, and dean and Jesse H. Choper Distinguished Professor of Law, University of California, Berkeley School of Law; Laurence H. Tribe, Carl M. Loeb University Professor at Harvard Law School; and Judy London, Public Counsel.
News Roundup


The Hill - Dreamers sue Trump for ending DACA
Los Angeles Daily News - Several LA-area DACA immigrants among those suing Trump administration
Los Angeles Times - Six Dreamers sue Trump to block repeal of DACA
Politico - DACA recipients file suit over Trump's move to end program
Press-Telegram - Southern California students, teachers sue over DACA
Reuters - Six Dreamers sue Trump administration over DACA decisions