Back to Top
UCI Law Hosts Trio Fighting Trump Administration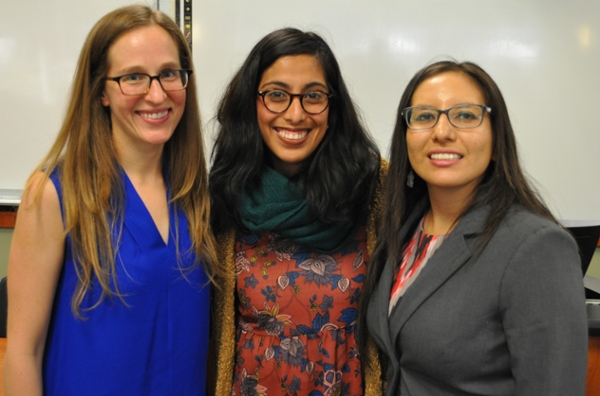 UCI Law on Tuesday hosted Viridiana Chabolla Mendoza (1L), San Diego-based attorney Dulce Garcia, and Prof. Leah Litman to discuss their fight against the Trump administration and it's decision to end the Deferred Action for Childhood Arrivals (DACA) program.  
Prof. Litman and Prof. Mark Rosenbaum are co-counsel in the lawsuit, filed last month in U.S. District Court in San Francisco. Chabolla and Garcia, both DACA recipients, colloquially known as "Dreamers," are two of six named plaintiffs.
The complaint argues the U.S. government, in asking Dreamers to come forward and identify themselves in exchange for the protection to live and work in the United States, perpetrated a bait and switch. By doing so, the government violated the equal protection component of the Fifth Amendment and federal law, including the Administrative Procedure Act.
"Being undocumented impacted every decision of my life," Chabolla said Tuesday, recounting her childhood, undergraduate and work experience.
"This is a human rights issue, not an immigration issue," Garcia said of the lawsuit.