R. Anthony Reese
Chancellor's Professor of Law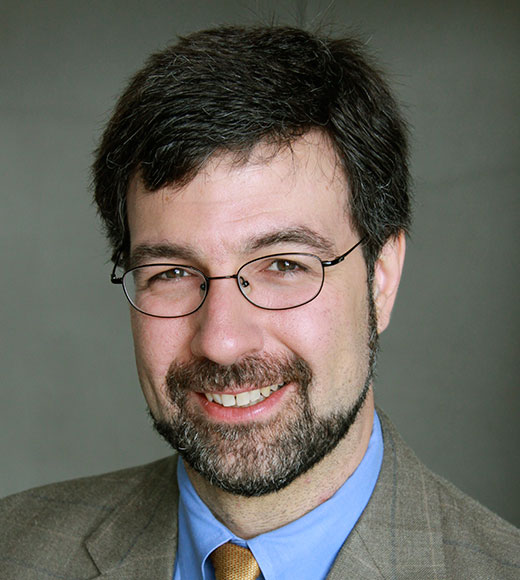 Expertise:
Copyright, Trademark
Background:
Professor Reese specializes in copyright law, trademark law, and Internet aspects of intellectual property law.  Prior to joining the faculty at UCI, he spent 10 years as a law professor at The University of Texas at Austin.  He has been a visiting professor at Stanford Law School and at NYU School of Law, and has taught copyright law in several international programs.
Professor Reese has published numerous articles on copyright law and digital copyright issues in a variety of U.S. and foreign law reviews and collections, and has spoken widely on those issues.  His work has a particular focus on the complexity and nuance of copyright doctrine. His current research interests include various aspects of the termination of transfer provisions in U.S. copyright law, and the preservation of works of authorship.
He has served since 2014 as an associate reporter on the American Law Institute's Restatement of the Law of Copyright.
He is also co-author of the casebooks COPYRIGHT, PATENT, TRADEMARK AND RELATED STATE DOCTRINES (with Paul Goldstein), COPYRIGHT (with Robert Gorman & Jane Ginsburg), and INTERNET COMMERCE (with Margaret Jane Radin and John Rothchild).
His public service has included serving on the boards of the Orange County Lavender Bar Association and the Yale-China Association, as well as advising the Texas Judicial Council's Committee on Public Access to Court Records.  From 2007 to 2010, Professor Reese was a member of the Copyright Principles Project, a group of 20 copyright academics and lawyers that made extensive proposals for reforming U.S. copyright law.
Before entering teaching, Professor Reese was a Research Fellow in the Program in Law, Science and Technology at Stanford Law School, and practiced intellectual property law with Morrison & Foerster in San Francisco (where he remains special counsel). He clerked for the Hon. Betty B. Fletcher on the U.S. Court of Appeals for the Ninth Circuit after earning his J.D. degree with distinction from Stanford University. Before law school, he earned his B.A. degree in Russian Language and Literature from Yale University, and worked for several years in international educational exchange, including two years teaching in the People's Republic of China.
Prior Courses:
Intellectual Property Law, Copyright Law, Digital Copyright, Trademark, Intellectual Property Theory, Copyright Law, Copyright Practicum
Copyright: Cases & Materials (New York, N.Y.: Foundation Press, 9th ed. 2017; 8th ed. 2011) (with Jane C. Ginsburg and Robert A. Gorman)
Copyright, Patent, Trademark & Related State Doctrines

 

(New York: Foundation Press, 8th ed. 2017; 7th ed. 2012; Revised 6th ed. 2010; 6th ed. 2008) (with Paul Goldstein)
"What Should Copyright Protect?" in What If We Could Reimagine Copyright? (Rebecca Giblin & Kimberlee Weatherall, eds; Canberra, Australian National University Press, 2017)
R. Anthony Reese, Termination Formalities and Notice, 96

B.U. L. Rev.

895 (2016).
R. Anthony Reese, Optional Copyright Renewal?: Lessons for Designing Copyright Systems, 39

Colum. J.L. & Arts

145 (2015).
R. Anthony Reese, How Much Is Too Much?: Campbell and the Third Fair Use Factor, 90

Wash. L. Rev

. 755 (2015).
R. Anthony Reese, Copyrightable Subject Matter in the Next Great Copyright Act, 29

Berkeley Tech

. L.J. 1489 (2014).
R. Anthony Reese, What Copyright Owes the Future, 50

Hous. L. Rev

. 287 (2012).
R. Anthony Reese, Copyright and Trademark Law and Public Interest Lawyering, 2

UC Irvine L. Rev.

911 (2012).
R. Anthony Reese, Copyright and Innovation in Legal Course Materials, in

Legal Education and the Electronic Revolution

(Edward Rubin ed., 2012).
R. Anthony Reese, The Relationship Between the ISP Safe Harbors and Liability for Inducement, 2011

Stan. Tech. L. Rev.

8 (2011).
Pamela Samuelson et al., The Copyright Principles Project: Directions for Reform, 25

Berkeley Tech

. L.J. 1175 (2011) (with 19 other members of the Copyright Principles Project).
R. Anthony Reese, Preserving the Unpublished Public Domain, in

Working Within The Boundaries of Intellectual Property: Innovation Policy for the Knowledge Society

(Rochelle Dreyfuss, Harry First & Diane L. Zimmerman eds., 2010).
R. Anthony Reese, The Relationship Between the ISP Safe Harbors and the Ordinary Rules of Copyright Liability, 32

Colum. J.L. & Arts 427

(2009).
R. Anthony Reese, Photographs of Public Domain Paintings: How, If at All, Should We Protect Them?, 34

J. Corp. L

.1033 (2009).
Prof. Reese's Scholarly Papers on SSRN | Full Publication List
Oct. 19, 2018: 

Associate Reporter for the Restatement of the Law, 

Copyright project at the American Law Institute Council Meeting

, New York, NY

Sept. 28, 2018:

 Speaker, "Proving Infringement: Burdens of Proof in Copyright Infringement Litigation," 

23rd Annual Business Law Fall Forum "The Procedure of IP,"

 Lewis & Clark Law School, Portland, OR

Jan. 19, 2018: Associate Reporter, American Law Institute Council Meeting for Restatement of the Law, Copyright project, Philadelphia
Dec. 7, 2017: Associate Reporter, American Law Institute Advisers Meeting and Members Consultative Group Meeting for Restatement of the Law, Copyright project

, Philadelphia

Nov. 30, 2017: Commentator, IP History Roundtable, University of Washington School of Law
Nov. 12, 2017: Commentator, Southern California IP Professors' and UCLA Entertainment, Media, and Intellectual Property Colloquium Workshop, University of California, Los Angeles
Oct. 27, 2017:The Discursive Turn in Copyright Conference, University of California, Irvine School of Law
April 4, 2017: Presenter, "Super Bowl I, Jazz Radio, and The Glass Menagerie: Copyright, Preservation and Private Copies," The Albert & Vern Oldham 2017 Spring Lecture, University of Akron School of Law
Feb. 3, 2017: Participant, Berkeley Center for Law & Technology-UC Hastings Workshop on Small Copyright Claims, Berkeley (Workshop Report, Scholarly Concerns About Proposed Copyright Claims Tribunal)
Nov. 10-11, 2016: Associate Reporter, American Law Institute Advisers Meeting and Members Consultative Group Meeting for Restatement of the Law, Copyright project, Philadelphia
April 8, 2016: Presenter, "Fair Use & Mass Digitization," Librarians' Association of UC Irvine
Dec. 3-4, 2015: Associate Reporter, American Law Institute Advisers Meeting and Members Consultative Group Meeting for Restatement of the Law, Copyright project, Philadelphia
Oct. 17, 2015: Speaker on copyright implications of Obergefell v. Hodges, UCI Law Alumni Association
Sept. 25, 2015:  Speaker, "Termination Formalities & Notice," at Notice and Notice Failure in Intellectual Property Law conference, Boston University School of Law
Sept. 17, 2015: Panelist, "Recent Intellectual Property Cases of Interest," Loeb & Loeb LLP IP/Entertainment Law MCLE Conference
April 17-18, 2015: Speaker, "How Much is Too Much? Campbell and the Third Fair Use Factor," at Fair Use In The Digital Age: The Ongoing Influence of Campbell v. Acuff-Rose's "Transformative Use Test," University of Washington School of Law
March 25, 2015: Prof. Reese discusses Duke Ellington, Billy Strayhorn "Satin Doll" copyright case as part of art exhibit at REDCAT, Los Angeles
Feb. 23, 2015: Speaker, "Optional Copyright Renewal? Lessons for Designing Copyright Systems," 28th Annual Horace S. Manges Lecture, Columbia Law School
Nov. 16, 2014: Commentator, Entertainment, Media, and Intellectual Property Colloquium Workshop, UCLA Law
June 30-July 1, 2014: Participant, Copyright and the Public Interest workshop, Strasbourg, France
May 16, 2014: Speaker, "Be Careful Where You Live When You Die: Termination of Copyright Transfers and Marriage Inequality" at the 2014 Leveraging Creativity: Artists, Entrepreneurship, and Intellectual Property Law conference, Indianapolis, Indiana
April 3, 2014: Speaker, "Copyrightable Subject Matter in the Next Great Copyright Act" at The Next Great Copyright Act, UC Berkeley School of Law
April 2013: Speaker, "Reforming Termination Formalities," at the Symposium on Reform(aliz)ing Copyright for the Internet Age, Berkeley Center for Law & Technology, UC Berkeley School of Law
January 2013: Speaker, "What is a 'Work of Authorship?'" at the Chicago Intellectual Property Colloquium, Chicago–Kent College of Law & Loyola University Chicago School of Law
April 13, 2012: Speaker, "Copyright and Trademark Law as Public Interest Law" at the Symposium on Business Law as Public Interest Law, School of Law, University of California, Irvine
March 2012: Speaker, "What Does Copyright Owe the Future?" at the 2012 Baker Botts LLP Lecture, Institute for Intellectual Property & Information Law, University of Houston Law Center
January 2012: Speaker, "What is a 'Work of Authorship'?" at the Symposium on Copyright & Creativity: Perspectives on Originality, Authorship, and Expression; Vanderbilt Journal of Entertainment & Technology Law
April 26, 2011: UCI Chancellor's Chair Lecture