Back to Top
Michael G. Ermer Pro Bono Program
UCI Law's Michael G. Ermer Pro Bono Program embodies the Law School's commitment to public service and experiential learning. Open to all UCI Law students, the program provides students an opportunity to offer legal services to underserved communities under the guidance and supervision of licensed attorneys and faculty members. Since its inception in 2009, UCI Law students have collectively contributed over 150,000 hours of pro bono work. More than 90 percent of students actively participate in pro bono work at some point during their time at UCI Law — with over 100 pro bono projects available each semester — providing crucial assistance to underserved individuals.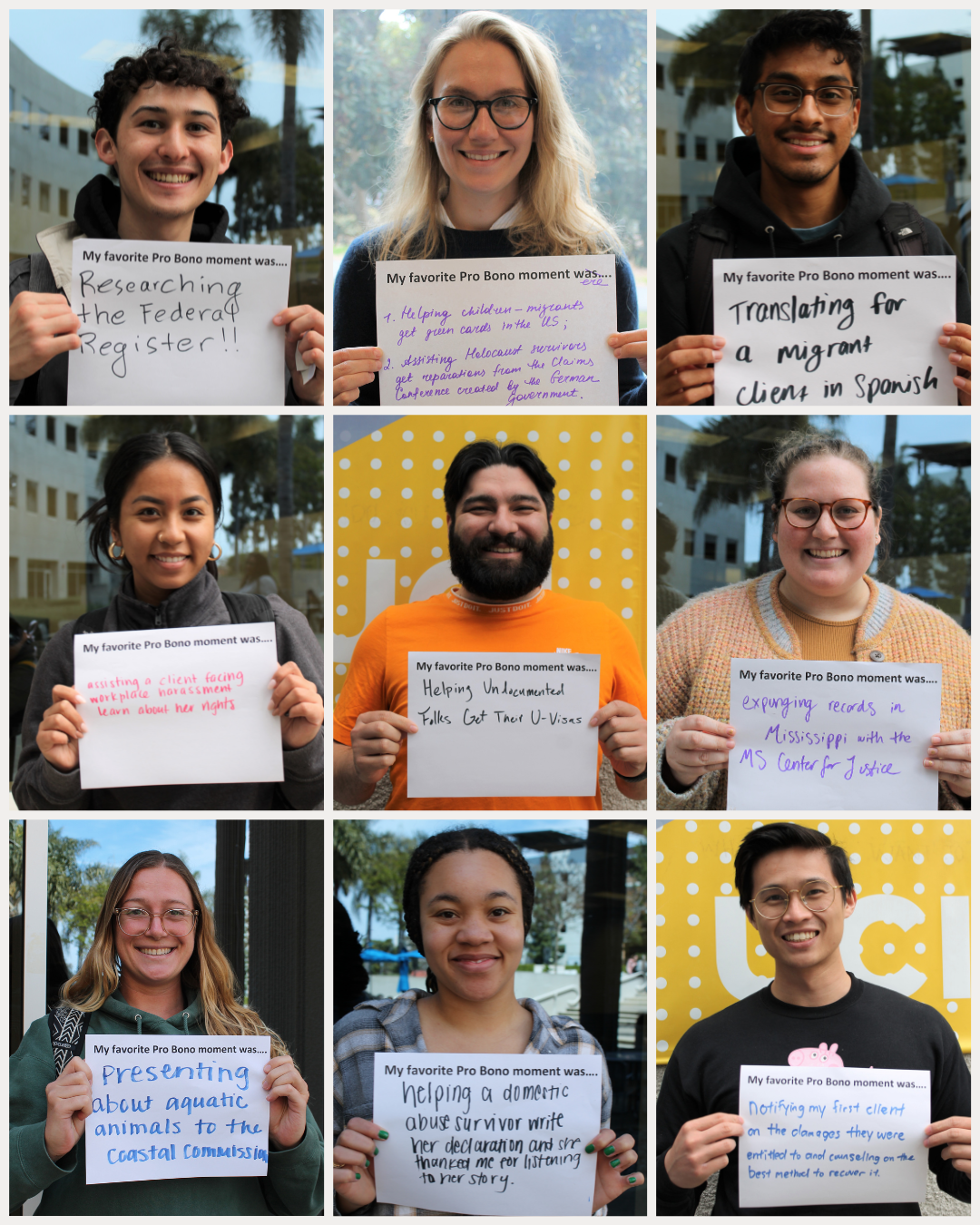 UCI Law has one of the most robust pro bono programs in the country. The last time it published its "Public Service Honor Roll," National Jurist Magazine ranked UCI Law third in the country among all law schools in community service hours per student. UCI Law Director of Pro Bono and Externship Programs Anna Davis was recognized by the Public Law Center as a 2015 Attorney of the Year for her efforts spearheading the award-winning program which has garnered numerous accolades, including a Pro Bono Service Award from the Legal Services Corporation, a President's Pro Bono Service Award from the State Bar of California, and the Advocates' Award from the Western Center on Law & Poverty.
The Michael G. Ermer Pro Bono program complements a range of other ways that faculty, staff and students engage and partner with the local legal community. UCI Law's experiential learning and outreach opportunities include UCI Law's community programs, its extensive core and elective clinics and its externship program. Substantial additional support in partnership with the Southern California legal community is found through the work of our interdisciplinary research centers, initiatives and student organizations. The pro bono program has also served as a stepping stone for UCI Law graduates, who have successfully transitioned into post-graduate paid positions as a direct result of their leadership roles in student pro bono projects.