Back to Top
UCI Law Recognized for "Extraordinary Commitment to Justice"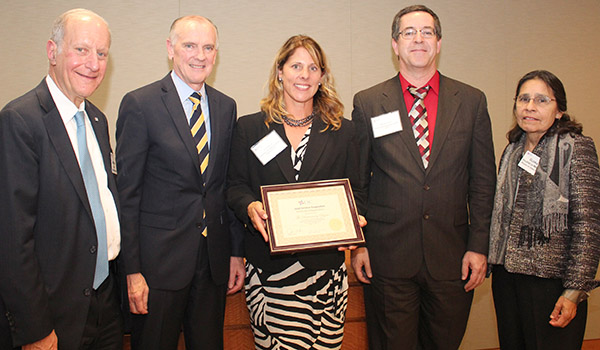 IRVINE, Calif., Oct. 15, 2015 — University of California, Irvine School of Law and Orrick, Herrington & Sutcliffe LLP received a Pro Bono Service Award from the Legal Services Corporation for the Permanency Project, their unique collaboration with Legal Aid Foundation of Los Angeles to help undocumented victims of crime and domestic violence obtain permanent residence status and gain freedom from their abusers.
The Permanency Project over the years has involved numerous lawyers from Orrick's Orange County and Los Angeles offices, as well as dozens of UCI Law students who — under the supervision of Orrick attorneys — spend part of their mid-semester break working with low-income clients to prepare Lawful Permanent Resident (LPR) applications. Acquiring LPR status can help change the lives of clients, allowing them to live and work in the United States without fear of deportation, which for many clients would mean being separated from their children. This fall marks the fifth anniversary of UCI Law and Orrick's partnership in this project; as of Oct. 14, 2015, attorneys and students have helped 37 clients obtain permanent residence status.
"This project is all about directly helping very deserving people get their lives back on track," said Don Daybell, the Orrick attorney lead for the Permanency Project. "The Orrick attorneys and UCI Law students working on this project appreciate the chance to make a real difference in someone's life, and to have a very personal impact."
Legal Services Corporation is an independent nonprofit established by Congress in 1974 to provide financial support for high-quality civil legal assistance. According to LSC's Sept. 30 announcement, recipients of the 2015 Pro Bono Service Awards are being honored for their "extraordinary commitment to equal justice."
RELATED LINKS:
About UC Irvine School of Law
UCI Law is a visionary law school focused on training talented and passionate lawyers and driven by professional excellence, intellectual rigor, and a commitment to enrich our communities through public service. UCI Law is a collegial environment, and our faculty comprises accomplished, nationally ranked thought leaders from around the country with a broad range of expertise. More about the Law School is available at law.uci.edu.