Back to Top
UCI Law student organizations win campus-wide awards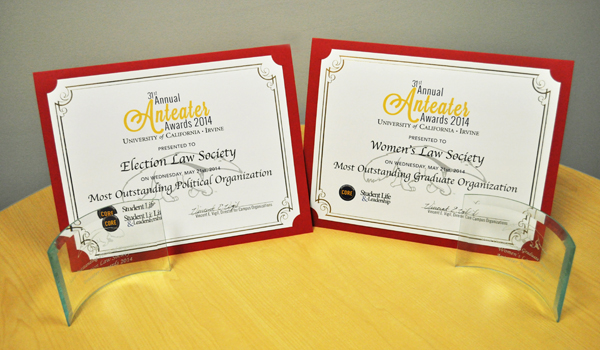 Two UCI Law student organizations, Election Law Society and Women's Law Society, won awards May 21 from the University of California, Irvine, for Most Outstanding Political Organization and Most Outstanding Graduate Organization, respectively.
The annual campus-wide awards program recognizes the achievements of outstanding peer-nominated student leaders and student organizations in various categories. The full list of 2014 awardees is available here.
The Election Law Society is a multi-partisan student organization dedicated to studying the legal issues raised through the American electoral process. Launched just this year, the group has already hosted several high-profile events, with such distinguished speakers as Joe Dunn, executive director of the California State Bar, and UCLA Law Professor Adam Winkler, on topics relating to election law. In addition to assisting students with networking, Election Law Society creates opportunities for learning and volunteering in the community.
The Women's Law Society (WLS) promotes the academic, personal and professional development of women law students, and encourages thoughtful discussion of issues related to gender, law and society. The WLS speaker series has covered topics including surrogacy, reproductive technology, and contraceptive mandates, with speakers including UCI Law professors Judith Daar and Leslie Griffin. Women's Law Society has also presented an annual production of "The Vagina Monologues" at the law school to raise awareness of gender-based violence and funds for UCI Law's Domestic Violence Clinic. WLS also provides mentoring and academic and career development workshops, and connects students with other organizations in the community focused on women's issues.