Back to Top
Three UCI Law students named Microsemi/Peterson Fellows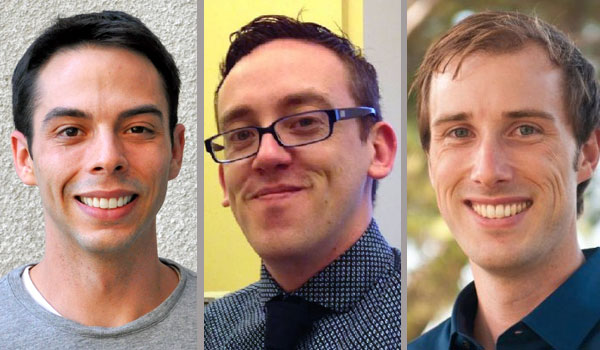 Matthew Fritz-Mauer '16, Justin O'Neill '15 and Thomas Worger '15 are the latest UCI Law students to be named Microsemi/Peterson Fellows.
Presented by the UCI Center in Law, Society and Culture and funded by a gift from Jim Peterson, CEO of Microsemi Corp., the fellowship encourages interdisciplinary scholarship and allows fellows to participate in a year-long set of activities to further their research training through collaboration, exchange and the production of an original project.
Fritz-Mauer's current project explores the issue of wage theft by examining empirical research, case law, statutes, bills, and news articles and press releases. Employers may commit wage theft in a variety of ways, including—but not limited to—failing to pay minimum wage and overtime, failing to pay for all hours worked, withholding tips, and misclassifying employees. Fritz-Mauer's project will focus on two areas: 1. Whether California lives up to its "employee friendly" reputation through practical application of its laws; and 2. Whether the passage of increasingly harsh civil and criminal laws across the country are an effective solution to the problem of wage theft.
Fritz-Mauer is pursuing both a J.D. from the School of Law and a Ph.D. from the Department of Criminology, Law and Society. Once he finally finishes school, he hopes to practice labor and employment law before eventually entering academia. He is originally from the East Coast, and has a B.A. in Criminal Justice from the University of Delaware.
O'Neill's primary interests involve issues of law, sexuality, and gender. His theoretical project will look to a wide variety of perspectives, from social movements scholars to queer theorists to community leaders (paying special attention to those perspectives critical of the path the movement has taken to date) with the goal of providing a broad outlook on the potential futures of the LGBT and queer movement. With many court victories in areas of policy such as marriage, workplace discrimination, and hate crimes, the LGBT movement's legal goals will soon be achieved. What happens next? Does the achievement of formal legal equality spell the end of the LGBT movement's engagement with the law? To seek answers, O'Neill's project will be oriented around two primary questions: 1. What is the most likely course for the LGBT movement in a post-marriage equality nation? and 2. What insights might the movement gain from sources of knowledge that have not, to date, been well represented within the LGBT mainstream?
O'Neill received his B.A. in political science from the University of California, Irvine in 2007 and spent five years working in higher education administration and student affairs prior to starting law school in 2012.
Worger's current research focuses on legal reform and the role of legal institutions in China during the 20th century. His project investigates the origin, practice, and public perception of the "two restraints, one leniency" policy, which has fueled tensions. In the wake of the 2009 Xinjiang riots between Uyghur minority and Han majority groups, Chinese social media websites were quickly populated with pro-Han comments blaming the state's preferential policies for ethnic minorities as the cause of the violence. Principal among these complaints was the "two restraints, one leniency" policy, intended to account for traditional cultural practices of ethnic minority groups in the course of criminal prosecutions, and consequently treat them with greater leniency. Eschewing traditional approaches to similar "affirmative action" policies as civil rights matters, this project views the dynamic relationship between minority groups and the state, and the way this relationship is reimagined in online discourse, through the lens of colonial studies.
Worger is a joint-degree student pursuing a Ph.D. in History and a J.D. in Law. Before attending UCI, he received his B.A. in History from UC San Diego and his M.A. in East Asian Languages and Cultures from Columbia University.