Back to Top
Strong showing for UCI Law's first team at national Latino law students moot court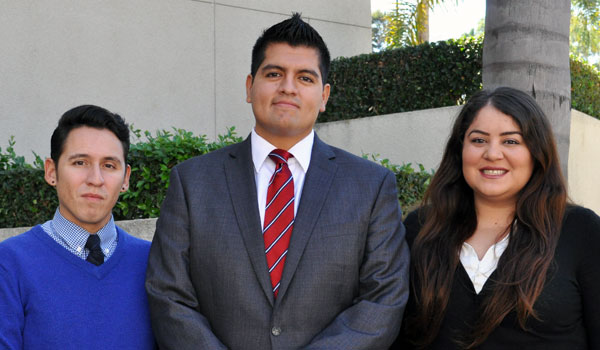 The UCI Law team of Amelia Alvarez '15, Nefi Acosta '16 and Andres Gallegos '16 won the award for Best Petitioner's Brief and made it to the final eight in the oral advocacy round at the National Latino/a Law Students Association Moot Court competition held Sept. 18-19, 2014 in Austin, Texas.
The UCI Law students did an exceptional job—both in their written and oral advocacy—on a challenging problem that involved the federal preemption doctrine as it intersects with immigration and housing laws. The team's accomplishments are particularly impressive considering this was the first year UCI Law participated in the competition.
For 2Ls Acosta and Gallegos, this was the first time participating in any moot court competition. "It was a bit intimidating and a little bit nerve-racking," said Acosta, who was the first to represent the team during the oral advocacy round. "But it was a great experience overall, and we learned a lot and got really good experience. Not only that, we got a good opportunity to network and meet other Latino law students from all across the country."
Acosta and Gallegos are currently co-chairs of the Latina/o Law Students Association at UCI Law, while Alvarez serves as the 3L advisor of the organization. Alvarez is also a leader in the pro bono program and works in the Immigrant Rights Clinic, while Acosta has served as a Community Fellow mentor, and Gallegos has been an active volunteer in Street Law and Saturday Academy of Law programs.
The three expressed appreciation for the outpouring of support from the UCI Law community as they prepared for the competition, especially from the faculty members who helped moot the students and provided feedback on arguments and presentation: Jennifer Chacón, Sameer Ashar, Stephen Lee, Catherine Fisk, Seth Davis, and Joe DiMento. Linda Puertas, Director of Academic Skills, is the team advisor/coach.
The experience "made me feel less nervous about Moot Courts in general," said Gallegos. "I think more than anything, we really want to keep participating in this national competition; we want to send students next year and make it a tradition for our school."