Back to Top
UCI Law students excel at National Latino Law Students moot court competition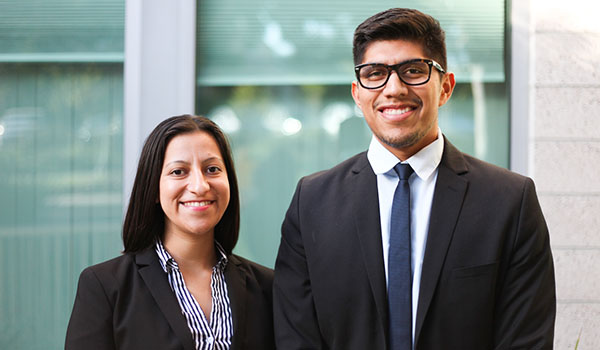 Class of 2017 students Andani Alcantara Diaz and Boanerges Rodriguez Orellana competed in the 2016 National Latino/a Law Students Association Moot Court and placed in the top eight teams nationally, continuing UCI Law's strong showing at the competition.
Andani and Boanerges were tasked with briefing and arguing two related and complex issues: whether the Second Amendment grants recipients of Deferred Action for Childhood Arrivals (DACA) with the right to bear arms, and whether 18 U.S.C. § 922(g) violates the Second Amendment by prohibiting those without lawful status from possessing firearms.
Both students participated in the UCI Law Moot Court program as 2Ls, an experience that Andani said helped improve her writing and oral argument skills, and also inspired her to challenge herself further in these skills. "As tough as the experience can be, I wanted to repeat it in a larger scale competition this year," she said. "Plus, arguing in front of JAG officers definitely helped me gain confidence in front of vastly different types of judges."
"The most rewarding experience participating in the NLLSA moot court was further building our legal research, writing, and oral advocacy skills," said Boanerges. "I also believe we were well prepared to answer difficult questions thanks in large part to the mooting we received from our own esteemed faculty."
Professors Ashar, Camacho, Chacón, Deacon, Junghahn and Puertas helped moot the students before the competition, held September 29-30, 2016 in Boston.
Both students have been members of the UCI Law LLSA board since their 1L year, and been active in pro bono work. Andani and Boanerges are also currently working in the Immigrant Rights Clinic. "I want to do immigrant rights work after law school, so the NLLSA moot court problem regarding the constitutional rights of DACA recipients was great practice!" Boanerges agreed the experience will help him pursue his goal of "litigating and developing a career that encompasses the intersection of labor and immigration law."
In addition to his service as an LLSA board member, Boanerges is also involved with the Employment and Labor Law Society (EaLLS) and Public Interest Law Fund (PILF) at UCI Law. He is the Programming Chair for EaLLS this year and last year served as Fundraising Chair for PILF.
More about UCI Law's Professional Skills Programs >