Back to Top
UCI Law students shine at national Latino law students moot court competition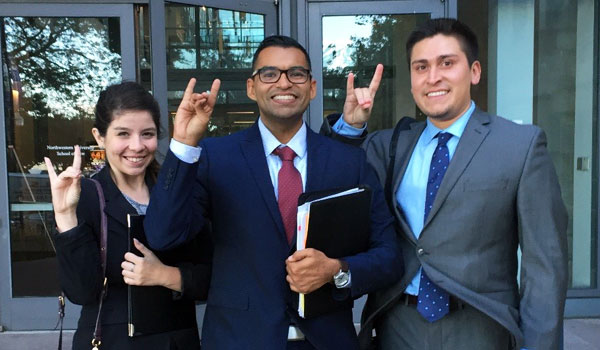 For the second year running, a UCI Law team won Best Petitioners Brief in the National Latino/a Law Students Association Moot Court competition, held Oct. 1-2, 2015 in Chicago. The team of Samantha Rodriguez, Ricardo Lopez and Eric Vera, all Class of 2016, made it to the quarter-finals of the oral argument round, out of 22 entering teams.
Professors Seth Davis, Joe DiMento, Alex Camacho and Sarah Lawsky, and Assistant Director of Admissions Estuardo Ponciano helped prep and support this team. Linda Puertas, Director of Academic Skills, is the team advisor/coach.
All three students have also participated in UCI Law's Experian/Jones Day Moot Court Competition and have taken on leadership positions in other areas. Rodriguez has been recognized as a leader in the UCI Law pro bono program, dedicating many hours to volunteer legal work in local communities. Lopez served a year as a student liaison for the American Bar Association Commission on Racial and Ethnic Diversity in the Profession, and Vera is serving his second term as the ABA Law Student Division Liaison to the Commission on Hispanic Rights and Responsibilities.