Back to Top
Students advance to semifinals of ABA Tax Challenge competition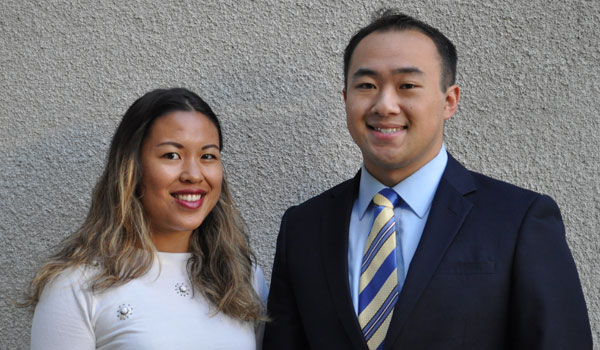 Christine Fukushima '15 and Tommy Du '15 have been chosen as one of six semifinal teams in the J.D. Division of the American Bar Association Section on Taxation's 14th Annual Law Student Tax Challenge. The semifinal and final oral defense rounds will be held Jan. 30 in Houston.
The two-person teams in the Law Student Tax Challenge solve a complex business problem that might arise in everyday tax practice. Teams are initially evaluated on two criteria: a memorandum to a senior partner and a letter to a client explaining the result. Based on the written work product, six teams from the J.D. Division and four teams from the LL.M. Division receive a free trip to the Section of Taxation 2015 Midyear Meeting, Jan. 29-31 in Houston, where each team will defend its submission before a panel of judges, consisting of top tax practitioners and government officials, including tax court judges.
More than 60 teams typically compete in the J.D. Division, and only six teams become semifinalists. Fukushima and Du were sponsored by Professor Sarah Lawsky.
Also, Fukushima and Melissa Main '15 recently were offered jobs at the Internal Revenue Service through the IRS Chief Counsel Honors Program. The highly competitive program seeks the best and brightest third-year students to hire for a three-year commitment with the IRS Office of Chief Counsel. Program participants are stationed at either the national office in D.C. or various field offices throughout the country.