Back to Top
UCI Law students awarded California Bar Foundation Diversity Scholarships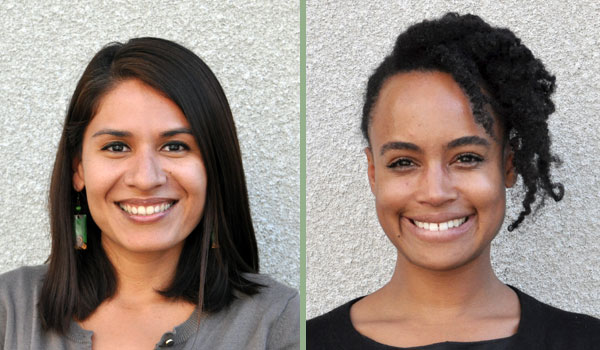 Elizabeth Hercules-Paez
and
Meigan Thompson
, both members of the Class of 2017, were selected as
2014 Diversity Scholars
by the California Bar Foundation. The scholarship financially supports first-year California law students with the goal of furthering diversity in the legal profession.
The foundation defines "diversity" as including a broad array of backgrounds and life experiences, including students from groups or with skills or attributes that are underrepresented in the legal profession, and specifically including students from socially and economically disadvantaged backgrounds. Application information >
Hercules-Paez has devoted her studies and work to helping immigrant communities. In college, she earned a research scholarship to study the gendered impacts of immigration in the rural town in Guanajuato, Mexico. For the past five years, she has worked in non-profit law firms serving immigrant communities in Southern California. Hercules-Paez plans to devote her legal career to protecting the rights of LGBTQ people seeking immigration relief.
Thompson is furthering her 10-year commitment to social justice by pursing a law degree. While working at the Southern Poverty Law Center, Thompson monitored the conditions at youth facilities in Mississippi. This job showed her that even though systems can fail youth, incarceration does not extinguish their hopes and dreams for a better life. Working with attorneys, she used litigation as a tool to expand opportunities for these youth and other members of disadvantaged communities.
The Diversity Scholarship provides $7,500 in restricted funding intended to cover costs associated with attending law school, i.e. tuition, fees, books and related educational expenses. Each donor to the Diversity Scholarship Fund is able to name one of the Diversity Scholarships each year for the duration of the pledge commitment.
Thompson was awarded the Southern California Edison Scholarship, and Hercules-Paez received the Pillsbury Scholarship, made possible by Pillsbury Winthrop Shaw Pittman LLP.