Back to Top
Aaron Brynildson argues before Tenth Circuit Court to protect National Forest lands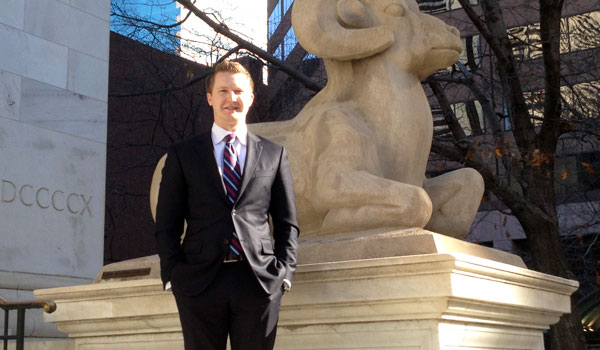 Aaron Brynildson '15 recently argued before the Tenth Circuit Court of Appeals in Colorado for protection of lands within the San Juan National Forest. As a student in the Environmental Law Clinic at UCI Law, Brynildson represented client Colorado Backcountry Hunters and Anglers in the appeal, arguing that the Forest Service's decision to allow the use of motorized vehicles on certain trails within the San Juan National Forest violated federal law.
Colorado Backcountry Hunters and Anglers is a group whose mission includes preservation of undeveloped, natural areas of national forests and other public lands. The organization seeks to protect traditional, non-motorized hunting and fishing experiences in the San Juan Forest.
Brynildson argued that the use of off-road vehicles on trails in San Juan Forest is unlawful because the environmental harms have not been analyzed, and the use of motorized vehicles conflicts with previous determinations that these trails were to remain closed to motorized uses. "The goal of our case is to have these trails closed to motorized uses until the harms are properly analyzed, and to ensure that the public has the opportunity to participate in the decisions concerning whether motorized vehicles should be allowed on these trails in the future," said Brynildson.
Amicus briefs in support of the appeal were also filed on behalf of local conservation groups, the town of Rico, and the Dunton Hot Springs resort in the area.
Other clinic students assisted Brynildson in preparing the case, all under the supervision of Prof. Michael Robinson-Dorn, director of the Environmental Law Clinic. Coral Lopez '15 and Michael Deshong '14 helped draft the opening brief, and Andrew Contreiras '15 mooted Brynildson and helped prepare the Nov. 21 oral argument.
While this was Brynildson's first time arguing in federal court, he did have prior courtroom experience: As a law clerk in the San Francisco District Attorney's Office last summer, he argued a few times in state court. He also participated in the Experian/Jones Day Moot Court Competition at UCI Law as a competitor, and is a Moot Court Board member. "I think my moot court experience provided a solid foundation for this clinical experience," he said.