Back to Top
Ryan Beall wins second place in American College of Bankruptcy Chapter 11 Negotiations Competition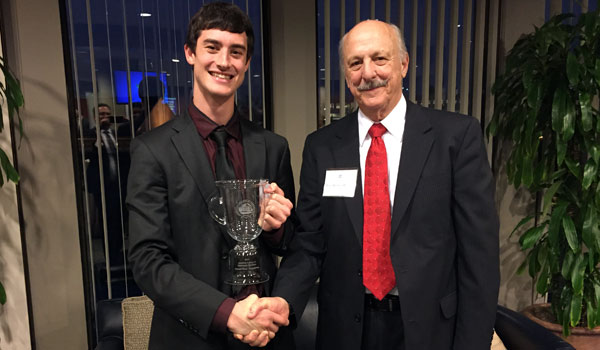 Ryan Beall '16 represented UC Irvine School of Law at the American College of Bankruptcy Chapter 11 Negotiations Competition on Feb. 7, 2015, and won second-place honors.
A total of 12 law schools participated in the competition held at the University of Southern California's Gould School of Law, including Stanford, UCLA, Berkeley, USC, American University Washington College of Law, Chapman, Campbell, University of Arizona, UC Davis and University of Utah.
The competitors tackled a hypothetical scenario involving a financially distressed California winery, and each team negotiated in two different capacities: first as the debtor and the secured lender bank, and second as the lessor who looked to purchase the winery and vineyard and the official committee of unsecured creditors. Beall represented the lender bank and the creditors' committee, competing in the first round against University of Utah and in the second round against Stanford.
U.S. Bankruptcy Judge Dennis Montali served as Competition Administrator, and Fellows of the American College of Bankruptcy judged the competition.
Beall was coached by Jeff Golden and Hutch Meltzer of Weiland Golden LLP. "Hutch and I thoroughly enjoyed coaching Ryan and appreciated his commitment, hard work, focus, creativity, legal acumen and ethics," said Golden. "He was the talk of the competition given his style and approach. Judge Montali and Peter Benvenutti, Chair of the American College of Bankruptcy, and others congratulated me on Ryan's outstanding performance and well-deserved success."