Back to Top
Nefi Acosta receives California Bar Foundation Diversity Scholarship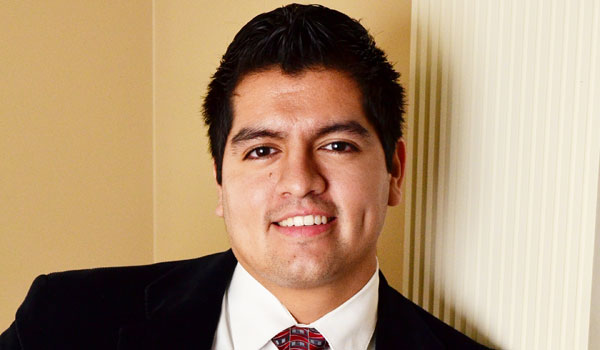 This 1L is the latest UCI Law student to receive the California Bar Foundation's Diversity Scholarship, which provides $7,500 in restricted funding to promising, newly admitted California law students from groups historically underrepresented in the legal profession.
Acosta never let the challenges of being an undocumented immigrant stop him from excelling in school and seeking higher education. He was two months old when his parents emigrated from Mexico to Utah for work, and the family eventually overstayed their visa for the promise of a better life. "It was not until I was in high school that I began to fully understand the implications of that decision," Acosta wrote in his scholarship application essay. Yet he didn't back down from the many obstacles.
He earned good grades in high school to pursue his dream – since third grade – to go to college. His legal status barred him from scholarships and federal financial aid for college, so he worked full-time at general labor and construction jobs to pay his way through his first three semesters at Utah Valley University. Just as he was taking a break from college because his money had run out, he received his green card, which energized him to dive back into college with gusto.
Acosta served on the Utah Valley University student government, co-founded the campus' first fraternity, and spearheaded the most successful voter registration drive at the school, registering more than 2,100 new voters. And he stayed on the Dean's List throughout. In 2011, he graduated with a bachelor's degree in Political Science, becoming the first member of his family to graduate from college.
He decided to pursue a law degree to "advocate for those less fortunate." UCI Law was a natural choice for many reasons: the small class sizes, the impressive bar passage, employment and clerkship rates, the location, the emphasis on training vs. theory, and the focus on public service. "I can't say enough about UCI Law," he said enthusiastically, having just completed his first month of law school.