Back to Top
UCI Law students recognized with scholarships, awards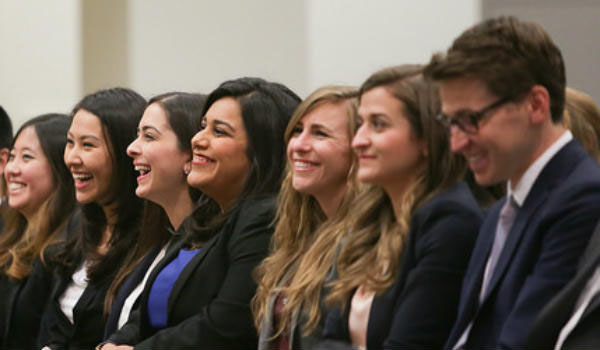 Over the course of the academic year, UCI Law students have continued to earn top honors by winning competitions, scholarships, fellowships and grants, including the following:
CLASS OF 2017
RJ Szuba '17 was selected as a Distinguished Law Student for the 9th Circuit by the American College of Bankruptcy. The Distinguished Law Student program was established in order to identify and promote prospective leaders in the insolvency and bankruptcy profession. The criteria for the selection of the distinguished law studnet include academic excellence, professional accomplishments, commitment to public service and pro bono efforts, and extraordinary law school experience and familiarity with insolvency law.
CLASS OF 2018
Robert Winson '18 was named Student Representative on the Board of Governors for the Los Angeles LGBT Bar Association.
Negah Mouzoon Daily '18 was selected to serve as Student Director for the Iranian American Bar Association
Samuel Sung Cheol Park '18 was awarded the Stars of the Future Scholarship by UC Irvine's Dreamer's Advocate Program
CLASS OF 2019
Sophie Tarazi '19 was awarded The Boukai Family Foundation Scholarship. The scholarship program was established to encourage current law students to build upon the values of family, faith, education and giving back to the community; advocate the importance of tolerance toward Islam and all forms of religions and faith traditions; and to serve to strengthen opportunities for future generations in Muslim-American communities.