Back to Top
ABA selects two UCI Law students as law student division liaisons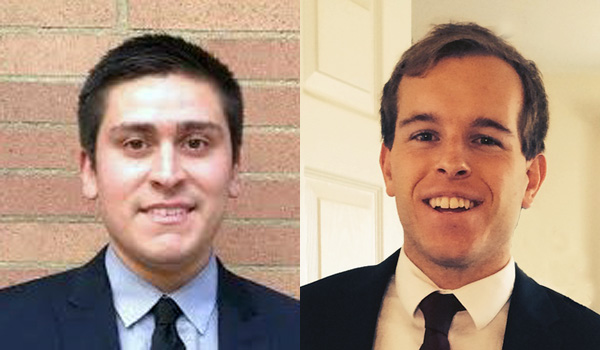 Eric Vera '16 and Matthew Bradbury '16 have been appointed to the American Bar Association's 2015-2016 student leadership team.
Vera was chosen to serve a second term as the ABA Law Student Division Liaison to the Commission on Hispanic Rights and Responsibilities, which aims to address the challenges and responsibilities facing Hispanics in the U.S. legal system.
"Last year, I met and worked with a group of highly motivated and dedicated individuals on various issues affecting the Hispanic community," said Vera, a UCI Law Public Service Fellow and co-president of the school's Latina/o Law Student Association. "I'm excited to continue working with and learning from the commission members."
Vera is currently in Washington, D.C., as a summer law clerk with the trial division of the Public Defender Service for the District of Columbia. Previously he was a law clerk with the Orange County Public Defender and a summer law clerk with the California Appellate Project in San Francisco.
Bradbury was named ABA Law Student Division Liaison to the Criminal Justice Section, which includes more than 20,000 members, from prosecutors to private defense counsel, appellate and trial judges, law enforcement personnel, public defenders and other professionals. 
"I am most thrilled by the chance to meet practicing attorneys who are devoted to change that goes beyond their everyday work, and by the opportunity to connect with students who are doing the same," says Bradbury, a UCI Law 2015 Mock Trial Competition semifinalist and Pro Bono 100+ Hours Achievement Award winner.
"I hope to accomplish two main goals during my term: create hiring guides for jobs in criminal law, primarily at district attorney and public defender offices, and voice student opinions on criminal justice as it emerges as a topic at the forefront of law and politics."
Bradbury this summer is a law clerk with the Ventura County District Attorney's Office.